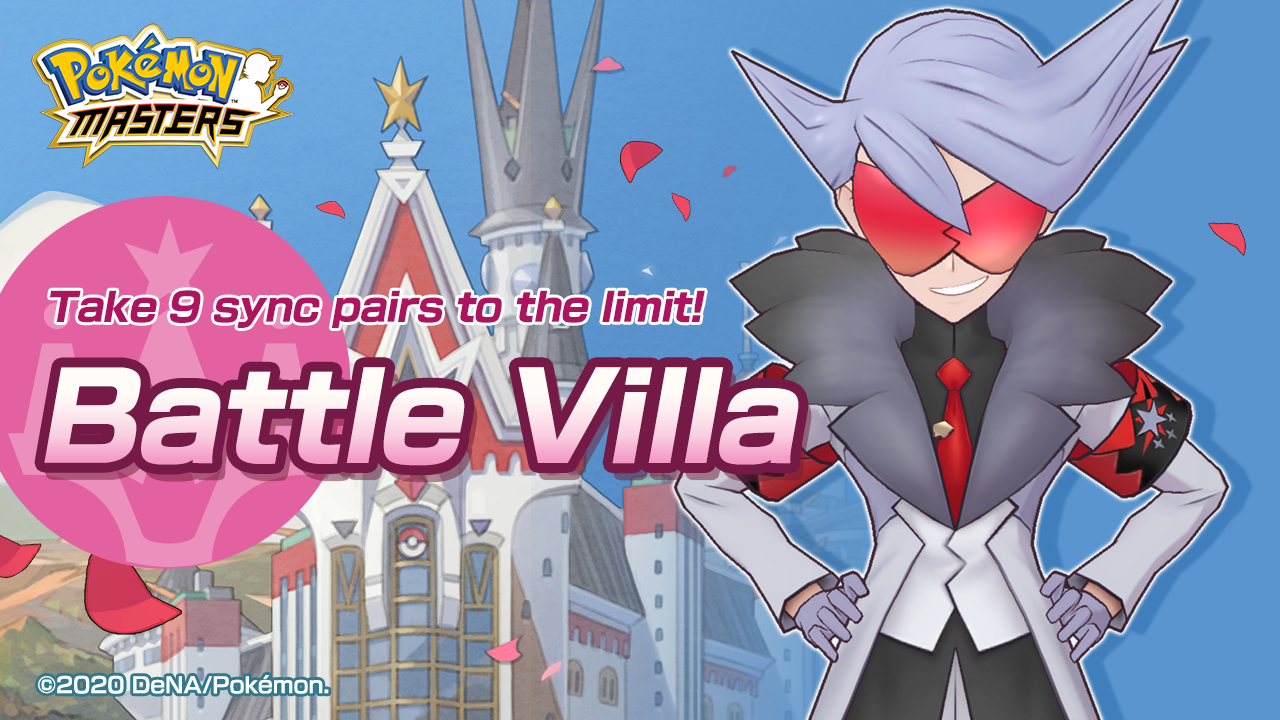 New Sync Pairs, Three Story Chapters, More Pokémon Evolutions, and a Gauntlet-style Survival Mode Added to the Game in Biggest Content Update Since Launch
TOKYO—February 27, 2020—DeNA Co., Ltd., in partnership with The Pokémon Company, announced a number of content updates to celebrate six months since the release of Pokémon Masters, a real-time battling and strategy game on compatible iOS and Android devices. More information is provided after the jump.  
Two new trailers for Pokémon Masters can be found on the official Pokémon YouTube channel. The first trailer celebrates six months since the launch of Pokémon Masters: https://youtu.be/HahbHIIRgDY. The second trailer features Red & Charizard battling against the sync pair of Professor Oak & Mew: https://youtu.be/cfasshwtfKY.
Sygna Suit Red & 

Charizard

 Now Available: 

As previously teased

, the wait is finally over as Red & Charizard join 

Pokémon Masters

 as a sync pair. 

This version of Red 

dons

 his Sygna Suit, a special outfit that Trainers can wear into battle

 on the island of Pasio

. A unique feature of this sync pair, shared only by a few others such as Korrina & Lucario, Blue & Pidgeot, and 

Steven & Metagross

, is 

that 

Charizard

 transforms i

nto Mega 

Charizard

 X after executing a sync move. While Sygna Suit Red & Charizard will permanently be added to the game, players will have a higher chance of obtaining this sync pair in the limited time "

Poké

 Fair Scout + Present,

"

 available from February 27 

at 

10:00PM Pacific

 time

 to March 15 

at 

10:59PM Pacific time. 

 

Chapt

ers 22 – 24 Added to the Story

—

Get Valerie & 

Sylveon

: 

Three new story chapters 

will be added

 to the Main Story of the game

 at February 27 

at 

10:00 Pacific time

, allowing players to continue the story of Pokémon Masters

 and play up to Chapter 24

. Completing these new story chapters will also allow players to add the 

sync pair of Valerie & 

Sylveon

 to their

 team.

 

 

More Pokémon Evolutions Added:

 New evolution sync pair stories have been added, allowing more Pokémon the opportunity to evolve in the game. For example, Oshawott can now evolve to Dewott and Samurott, Whirlipede to Scolipede, Espurr to Meowstic, Palpitoad to Seismitoad, Cranidos to Rampardos, Ponyta to Rapidash, Makuhita to Hariyama, Nosepass to Probopass, and many more. 

 

Battle Villa, 

Single 

Player Gauntlet-Style Survival Mode

,

 

Added

:

 Battle Villa is a new game 

mode where every choice matters. 

In this new mode, players will battle against AI opponents to see how many total stages they can clear during the two weeks of a Battle Villa being open. While a player's progress will carry over day to day, players will only be able to battle with a select number of sync pairs each day. The inaugural Battle Villa will be open from February 27 

at 

10:00PM Pacific time to March 15 

at 

10:59PM Pacific time for those that have complet

ed Chapter 7 of the Main Story. Future Battle Villas will periodically open in the game. 

 

New Story Event Features 

Sygna Suit Elesa & Rotom

: 

A new type of story event titled "Shining Star" will feature the professional model of the Unova region, Elesa. 

Instead of the

 traditional 

Story Mission-style format that players are used to, players will have to battle against 

AI 

opponents and traverse a series of maps in order to progress the story. O

nly 

players

 who ha

ve completed Chapter 1 of the

 Ma

in 

S

tory are eligible to participate in 

"Shining Star

.

" 

Sygna Suit Elesa & Rotom will also be featured in the "

Sygna

 Suit 

Elesa

 Spotlight Scout

.

" Both the story event and the spotlight scout will be available from February 27 

at 

10:00PM Pacific time to March 15 

at 

10:59PM Pacific time. 

 

Professor Oak & Mew Still Available to Add: 

This sync pair will be 

distributed to all players that have 

logged into the game and 

completed the tutorial before March 15 

at 10

:59PM Pacific 

t

ime.

 This marks the first time in the Pokémon games that Professor Oak will join the battle as a Pokémon Trainer.

 

Free Gems to Celebrate 

Six Months 

S

ince

 the 

Launch of Pokémon Masters

: 

To commemorate the r

elease date of 

Pokémon Red

 and 

Pokémon 

Green 

in 

Japan 24 years ago, players who login to the game before March 15 

at 

10:59PM 

Pacific time will receive a one-time gift of 3,000 free gems. Players that login each day 

prior to this date

 will also be able to receive up to 3,000 additional free gems, given out in cel

ebration of 

six months since the launch of Pokémon Masters. 

 
Players can check the in-game menus for more information. Note that in-game event dates are subject to change without notice.  
Pokémon Masters is a free-to-start game with in-app purchases on compatible Android and iOS devices and can be downloaded at the links below: 
The game is available in English, French, German, Italian, Japanese, Korean, Spanish, and Traditional Chinese. Fans can learn more about Pokémon Masters at https://pokemonmasters-game.com/en-US. 
They can also stay tuned to the official social media channels on Twitter (https://twitter.com/PokemonMasters), Facebook (https://www.facebook.com/PokemonMastersGame), and Instagram (https://www.instagram.com/pokemonmastersgame), as well as the official YouTube channel (https://www.youtube.com/c/PokemonMastersGame), for news about the game. 
### 
Assets
All assets can be downloaded here: https://drive.google.com/open?id=1lryNMhhpfC57brF48wq5MrMl7Wpaiddy 
About DeNA
DeNA (pronounced "D-N-A") develops and operates a broad range of mobile and online services including games, e-commerce, entertainment, healthcare, automotive and other diversified offerings. Founded in 1999, DeNA is headquartered in Tokyo with over 2,000 employees. DeNA's aim is to delight and impact the world through the use of the internet and AI. DeNA Co., Ltd. is listed on the Tokyo Stock Exchange (2432). For more information, visit: dena.com/intl/. 
About Pokémon 
The Pokémon Company International, a subsidiary of The Pokémon Company in Japan, manages the property outside of Asia and is responsible for brand management, licensing and marketing, the Pokémon Trading Card Game, the animated TV series, home entertainment, and the official Pokémon website. Pokémon was launched in Japan in 1996 and today is one of the most popular children's entertainment properties in the world. For more information, visit www.pokemon.com. 
Media Contacts for Information Inquiries
North America: DeNA@triplepointpr.com
Europe: DeNA@hopeandglorypr.com