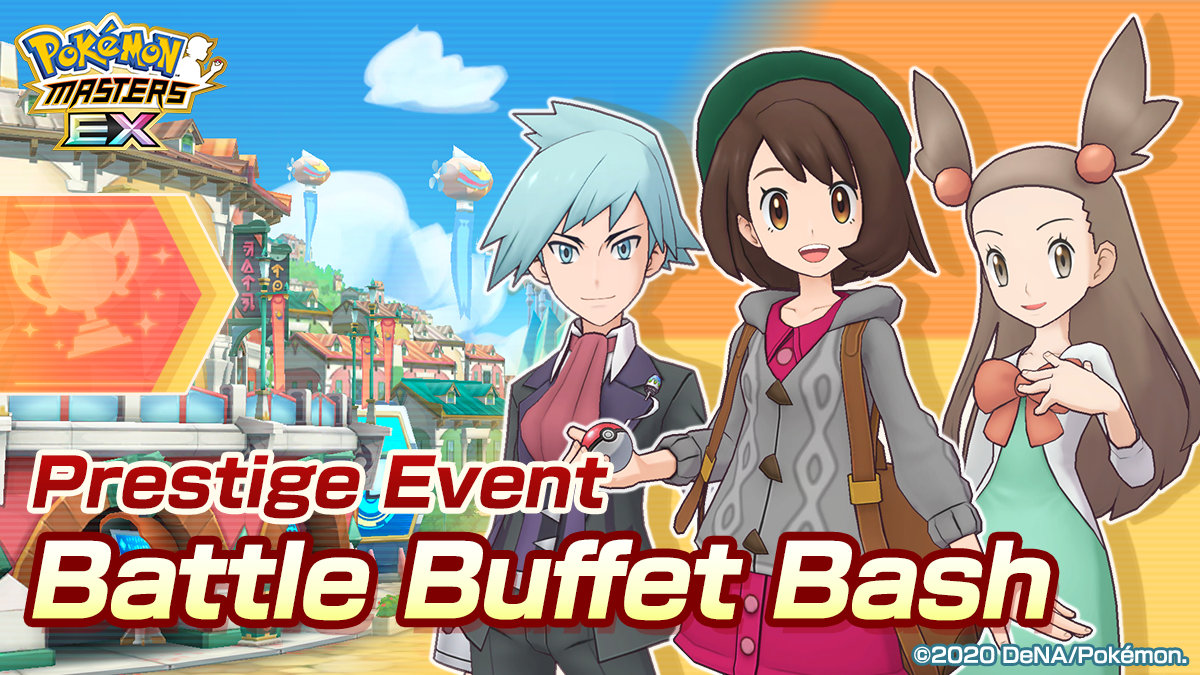 Pokémon Masters EX now includes characters from every known region of the Pokémon world
TOKYO—November 30, 2020—DeNA Co., Ltd., in partnership with The Pokémon Company, today announced that the Trainer Gloria and Legendary Pokémon Zacian, characters first introduced in Pokémon Sword and Pokémon Shield, are now available to add to players' teams as a sync pair in Pokémon Masters. Gloria & Zacian is the first sync pair from the Galar region to join Pokémon Masters EX, which now includes characters from every known region of the Pokémon world.
A trailer highlighting these characters can be found here on the official Pokémon Masters EX YouTube channel: https://youtu.be/7lJs_xyBOls
New Sync Pair Spotlight Scout!

Players can add the Steel-type sync pair of Gloria & Zacian via the sync pair spotlight scout, available now until December 20 at 9:59 p.m. Pacific time. This sync pair can deploy moves like Behemoth Blade, an extremely powerful attack that consumes four out of a possible six units of the move gauge. Savvy players can strategize by using this resource-intensive move in conjunction with Move Gauge Boost, which replenishes the move gauge.

Introducing "Battle Buffet Bash."

Players will also be able to interact with Gloria & Zacian in an in-game event titled "Battle Buffet Bash," where they'll engage in Pokémon battles at this culinary-themed festival on Pasio. In this event, players can earn in-game rewards and Prestige Points for completing battles. Players that earn over 100,000 Prestige Points during the event period, available now until December 6 at 9:59 p.m. Pacific time, will be entered in a ranking with other players around the world, with in-game rewards distributed according to player rank.

3,000 Gem Log-in Bonus.

To commemorate the arrival of Gloria & Zacian, a gift of 3,000 Gems will be distributed to all players who log-in to the game from now until December 23 at 9:59 p.m. Pacific Time. A separate log-in bonus called the "Make Way for Gloria Log-In Bonus", available now until December 20 at 9:59 p.m. Pacific time, will reward players that log-in to the game daily with up to 120 5★ Scout Tickets, enough to guarantee that players can add up to four 5★ sync pairs to their teams.
Players can check the in-game menus for more information. Note that in-game event dates are subject to change without notice.
Pokémon Masters EX is a real-time battling and strategy game for compatible Android and Apple devices that is free-to-start with in-app purchases. It can be downloaded at the links below:
The game is available in English, French, German, Italian, Japanese, Korean, Spanish, and Traditional Chinese. Fans can learn more about Pokémon Masters EX at https://pokemonmasters-game.com/en-US
They can also stay tuned to the official social media channels on Twitter (https://twitter.com/PokémonMasters), Facebook (https://www.facebook.com/PokémonMastersGame), and Instagram (https://www.instagram.com/Pokémonmastersgame), as well as the official YouTube channel (https://www.youtube.com/c/PokémonMastersGame), for news about the game.
Assets
All assets can be downloaded here: https://drive.google.com/drive/folders/11lgAri8_1zJPAT4Nya23mneuYIYTtIG-?usp=sharing
About DeNA
DeNA (pronounced "D-N-A") develops and operates a broad range of mobile and online services including games, live streaming, entertainment, healthcare, and other diversified offerings. Founded in 1999, DeNA is headquartered in Tokyo with over 2,000 employees. DeNA's aim is to delight and impact the world through the use of the internet and AI. DeNA Co., Ltd. is listed on the Tokyo Stock Exchange (2432). For more information, visit: dena.com/intl/.
About Pokémon
The Pokémon Company International, a subsidiary of The Pokémon Company in Japan, manages the property outside of Asia and is responsible for brand management, licensing and marketing, the Pokémon Trading Card Game, the animated TV series, home entertainment, and the official Pokémon website. Pokémon was launched in Japan in 1996 and today is one of the most popular children's entertainment properties in the world. For more information, visit www.Pokémon.com.
Media Contacts for Information Inquiries
DeNA@triplepointpr.com