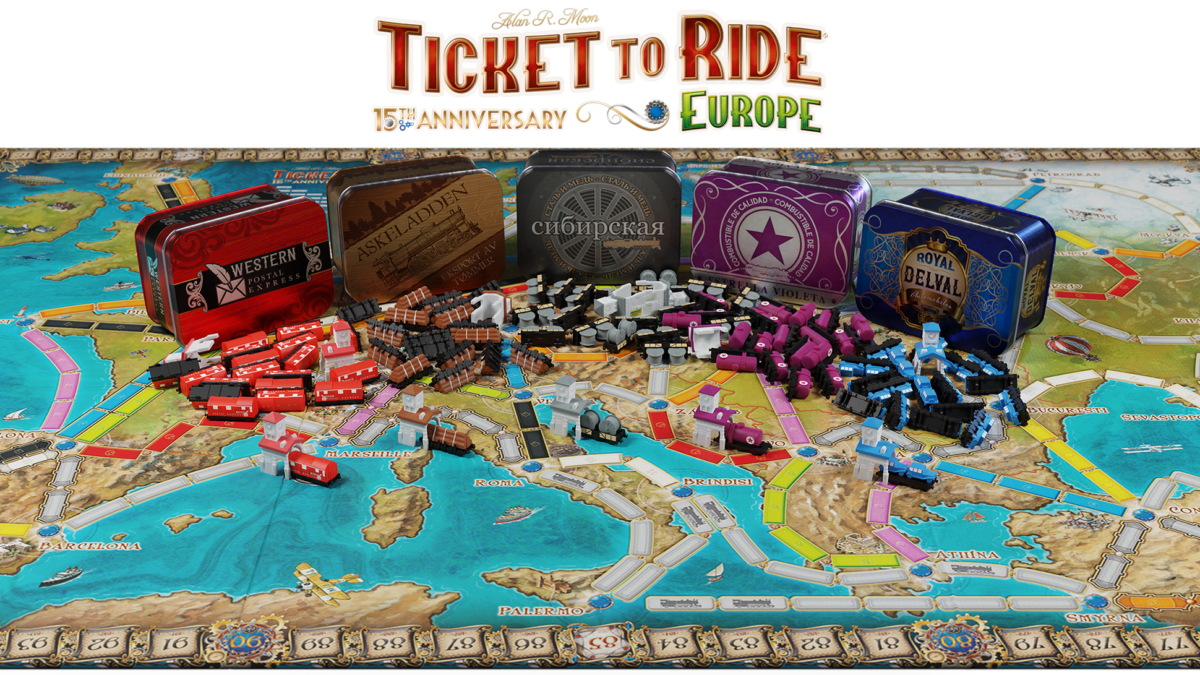 Days of Wonder and Asmodee Celebrate the Iconic Board Game with a Limited Collector's Edition
Paris, France – January 25, 2021 – Asmodee and Days of Wonder are celebrating the 15th anniversary of their hit board game Ticket to Ride Europe with a limited collector's edition arriving this spring. Ticket to Ride Europe is the second installment of the iconic Ticket to Ride, a franchise that has been enjoyed by more than 80 million players around the world.
A Train Ride to the Top
The Ticket to Ride franchise has become a cultural icon, with appearances on TV shows including Big Bang Theory, IT Crowd, and Blacklist. In addition to its TV spots, celebrities like Emmy Rossum, Jennifer Garner, and Will Wheaton, all play and enjoy the game.
Ticket to Ride can be enjoyed by new players and experts alike with its easy-to-learn strategic gameplay, making it a staple in family board game nights. As one of the world's most popular and most critically acclaimed board games, the Ticket to Ride franchise has won more than 37 awards and accolades across all of its titles including a Game of the Year Award from Spiel des Jahres and the coveted As d'Or award from the Jeu de International Games Festival.
Ticket to Ride has been translated into 33 different languages and is distributed in more than 40 countries, making it an international phenomenon. Since Ticket to Ride made its debut in 2004, the game has expanded beyond the table and now has digital versions available on iOS, Android, PC, and home video game consoles. While families were quarantining in 2020, Asmodee added Ticket to Ride to its Print & Play library, allowing anyone with an internet connection to download and play the game free of charge.
Celebrating Ticket to Ride Europe's 15th Anniversary
Commemorating Ticket to Ride Europe's 15th Anniversary milestone is a limited collector's edition, offering the definitive board game experience for anyone looking to expand their catalogue. This deluxe package includes finely detailed trains and stations coming in gorgeous tin boxes and an enhanced game-board with beautiful artwork and expanded with all Destination Tickets designed to date.
"Hard to believe it's been 15 years. Ticket to Ride Europe still looks so fresh and young. But this version has bulked up a lot in both size and in tons of new tickets that create an infinite number of possible ways to play the game." says Alan R. Moon, Designer of Ticket to Ride. "The new train cars and stations and the new art make the game look absolutely gorgeous when laid out on the table. Here is hoping you enjoy another 15 years of fun."
In Ticket to Ride Europe, players compete to claim train routes across turn-of-the-century Europe, connecting iconic cities like London, Paris and Rome. Featuring updated gameplay elements including tunnels, ferries, and train stations, this stand-alone game is designed for 2 to 5 players and can be completed in 30 to 60 minutes.
Assets for Ticket to Ride Europe: 15th Anniversary can be found in the press kit here.
About Asmodee
Asmodee's mission is to tell amazing stories through great games. The company's roots are in publishing and distributing board games, including Catan, Ticket to Ride, Pandemic, Arkham Horror, Splendor, Keyforge, Dobble/Spot It and Star Wars: X-Wing, selling tens of millions of games in more than 50 countries. Over the last few years, the company has expanded its scope to create multimedia experiences for players across multiple physical and digital platforms such as books, clothing lines and video games. Asmodee operates in Europe, North America, South America and Asia, with its headquarters based in Guyancourt, France. For more information visit corporate.asmodee.com.
About Days of Wonder
Days of Wonder develops and publishes unique games in their genre. The studio's "Play Different" slogan reflects its vision of publishing: Days of Wonder limits its productions to very few new games, focusing on quality rather than quantity, and developing highly refined digital adaptations. The unparalleled successes—such as Ticket to Ride®, the world's best-selling train game; Small World® and its epic conquests in a fantastic universe; and Memoir '44®, the World War II reference game with over twenty expansions—motivate Days of Wonder to raise the bar ever higher. Days of Wonder board games are distributed in 40 countries and their digital versions are available on the App Store, Google Play, Steam, and the Days of Wonder website at www.daysofwonder.com.
Days of Wonder, Corinth, Yamataï, Quadropolis, Five Tribes, Ticket to Ride, Small World, Memoir '44 are all trademarks or registered trademarks of Days of Wonder, Inc. All other trademarks are the property of their respective owners.
Media Contacts
TriplePoint on behalf of Asmodee for the USA