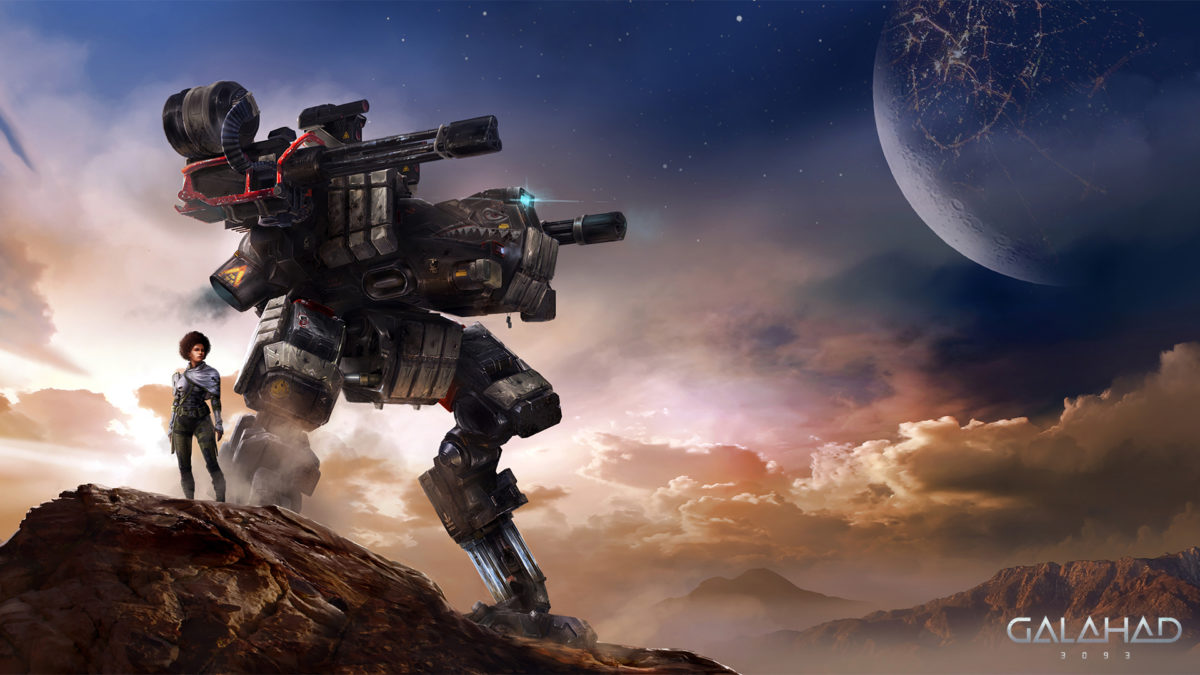 Explosive Lance warfare commences with two new maps and a host of gameplay updates
ST. LOUIS, Mo. — July 22, 2021 — Simutronics today revealed that the next extended open beta for the upcoming mech hero shooter GALAHAD 3093 will kick off on July 23, 2021. The free beta will take place as part of DreamHack Beyond 2021 and invites all PC players to choose a Knight and jump into a customizable Lance for a week of fast-paced mech combat.
Starting Friday, July 23 at 8 pm CST and concluding Sunday, August 1 at 10 pm CST, pilots can join the beta by visiting the game's Steam page and clicking "Request Access" or by visiting the game's booth at DreamHack Beyond. GALAHAD 3093 is currently in development for PC with Steam Early Access planned for late 2021.
Check out the new trailer here: https://youtu.be/yqAENa82Kps.
Pilots can look forward to trying out new weapons, deployables, and upgrade modules as they vie for supremacy. This extended open beta features five total maps, including two brand new arenas for high-flying mech action:
The Rig: This group of loosely connected deep-sea drilling platforms reward the brave, and punish the reckless. With no dry land in sight, this 3 base map offers a crushing, watery end for Lance pilots with poor aerial skills. Jump jet control modules help mightily on this isolated ocean battleground.
The Pit: Experience the highs and lows of battle in this vertical mineshaft of a map. You'll need to make clever use of your jump jets and teleporters to keep both of the two bases secure. With both bases located near the middle, and team spawn points at the top and bottom of the map, the race is on to gain control of the full depths of The Pit.
As part of the beta, Simutronics will hold a tournament from Thursday, July 29 through Saturday, July 31. The "Win David's Lunchbox Tournament" includes a prize from Simutronics CEO David Whatley's personal lunchbox, with a mystery gift inside. The GALAHAD 3093 player who records the highest single-match score during this time will be crowned the winner. Runners up will also receive a congratulatory certificate signed by the GALAHAD development team.
In the sci-fi future world of GALAHAD 3093, Knights – mech operators inspired by Arthurian legend – fight for glory in 32-player arenas. They pilot Lances – mechs capable of massive destruction – in a never-ending battle to capture and hold territory.
Lances are highly customizable: classes range from Light to Super Heavy and can be outfitted with a wide variety of weapons, deployable systems, and tech modules. Knights are the heroes who provide unique active and passive abilities, ranging from aerial bombardments to drop shields, further customizing your loadout. With thousands of potential build permutations, GALAHAD 3093 lets players create a wide variety of unique builds to fit any playstyle.
Players can request access to the GALAHAD 3093 beta and wishlist the game on Steam here: https://store.steampowered.com/app/1117350/GALAHAD_3093/.
For more information on GALAHAD 3093, visit GALAHAD3093.com and follow the game on Facebook, Instagram, Twitter, and YouTube. Players can also join the Discord community for updates directly from the developers.
Assets for GALAHAD 3093 can be found in the press kit.
###
About Simutronics
Simutronics is a games developer based in St. Louis. With over three decades of experience, Simutronics is a leader in the business of online multiplayer games and persistent worlds that people continue to play today like GemStone IV and DragonRealms. It helped pioneer the online shooter genre with CyberStrike and has created award-winning mobile games such as the Siege series, One Epic Knight, and Tiny Heroes.
Press Contact
TriplePoint on behalf of Simutronics