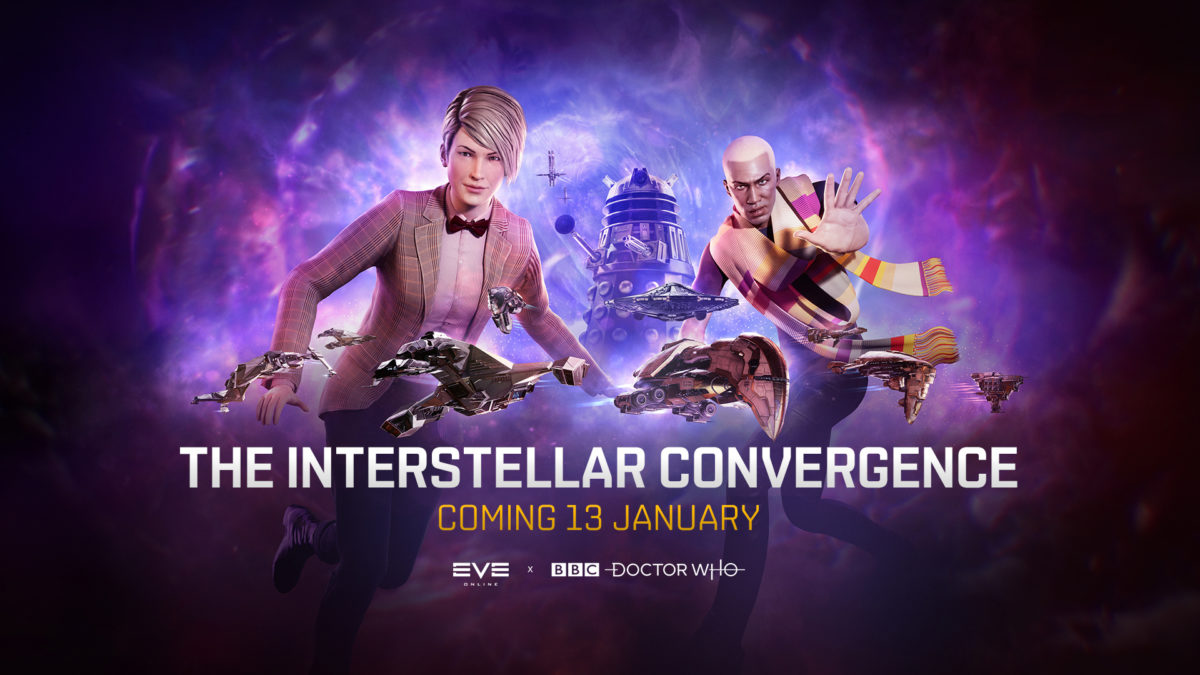 Warp into New Eden on January 13 and challenge Doctor Who's DALEKS in the first major cross IP collaboration in EVE Online history
REYKJAVÍK – January 4, 2022 – CCP Games and BBC Studios have joined forces for EVE Online x Doctor Who, an original crossover event between the beloved action-adventure series Doctor Who and the free-to-play deep space-faring MMO EVE Online. Universes will collide as Capsuleers and Whovians face the Daleks together in massive space battles in EVE Online x Doctor Who starting 13 January until 1 February.
EVE Online is a free-to-play, community-driven spaceship MMO game where players can choose their own path among the stars from countless options, developed by CCP Games in Reykjavik. The game first launched in 2003 and has since gained recognition for its scale, complexity, and the world record-breaking exploits of its online community. EVE Online is one of the most critically acclaimed MMORPG intellectual properties (IPs) in time and space, and one of the most extensive works of science fiction in the world.
Check out the reveal trailer here.
"2022 will be off to an (inter)stellar start with EVE Online x Doctor Who," said Bergur Finnbogason, EVE Online's Creative Director. "We are always pushing the boundaries of what is possible in EVE Online. Collaborating with BBC Studios gives us the opportunity to pay homage to an iconic series that has inspired us at CCP. We hope you'll join us in New Eden on January 13 to see what happens when galaxies collide!"
"EVE Online x Doctor Who not only brings two iconic universes together, but also the passionate Whovians with the just-as-passionate pilots of New Eden," said Kevin Jorge, Senior Producer at BBC Studios, "By bringing the fanbases together, the already massive battles of EVE Online are sure to become even more explosive. Only time will tell if New Eden's fiercest pilots have what it takes to challenge the might of the Daleks."
EVE Online x Doctor Who introduces new, Gallifrey-themed space where players will search for artifacts from Doctor Who's Great Time War. The artifacts will provide players with clues to track down the infamous Daleks and face them in an interstellar battle of the ages. Players who survive the fight will reap unique rewards that they can take back to New Eden. Additionally, a login campaign with skill points and Doctor Who-themed items will be available to all players throughout the duration of the event.
EVE Online x Doctor Who is the first major collaboration for the spaceship MMO, reaching a new milestone in CCP's journey to expand New Eden's horizons and welcome fresh players into its storied universe. EVE Online has seen incredible growth over the course of 18 years, reaching more than 24 million active users in 2021. CCP recently overhauled EVE's new player experience, making it a perfect time for rookie pilots to start their journey in EVE Online.
More information for EVE Online x Doctor Who can be found here. Assets can be found here.
EVE Online can be downloaded for free by visiting www.eveonline.com. For all the latest information about the game, please visit EVE News.
About EVE Online®
EVE Online (PC/Mac) is a compelling, community-driven sci-fi MMO game where players can build and pilot a wide variety of spaceships, traversing vast solar systems for free and choosing their own path from countless options, experiencing space exploration, immense PvP and PvE battles, mining, industry and a sophisticated player economy in an ever-expanding sandbox. EVE is a captivating game in which hundreds of thousands of players compete for riches, power, glory and adventure, forging their own destinies in a single thriving universe. For more information, visit www.eveonline.com.
About CCP
CCP is a leading independent game developer that has been praised for its artistry, technology and game design that facilitates emergent behavior, empowering players with compelling means of self-expression. Founded in 1997 on the principle of pushing the envelope and breaking new ground on all levels, CCP is on a mission to create virtual worlds more meaningful than real life. With the launch of EVE Online in May 2003, CCP established itself as a pioneer of cutting edge massively multiplayer games, winning numerous awards and receiving critical acclaim worldwide. CCP is headquartered in Reykjavik, Iceland, and has additional studios in London and Shanghai. For more information, visit www.ccpgames.com.
About BBC Studios
BBC Studios, a global content company with bold British creativity at its heart, is a commercial subsidiary of the BBC Group, supporting the licence fee and enhancing programmes for UK audiences. Able to take an idea seamlessly from thought to screen and beyond, its activities span content financing, development, production, sales, branded services, and ancillaries across both its own productions, and programmes and formats made by high-quality UK independents. Award-winning British programmes made by the business are internationally recognised across a broad range of genres and specialisms, with brands like Strictly Come Dancing/Dancing with the Stars, Top Gear and Doctor Who. BBC.com, BBC Studios' global digital news platform, provides up-to-the-minute international news, in-depth analysis and features to more than 139 million unique browsers each month. BBC Studios has offices in over 20 markets globally, including ten production bases in the UK and production bases or partnerships in a further seven countries around the world. The company, which ordinarily makes around 2000 hours of content a year for both the BBC and third parties including Apple, Netflix and Migu, is a champion for British creativity around the world. It is also a committed partner for the UK's independent sector through a mix of equity partnerships, content investment and international distribution for programme titles.
BBC Studios | Website | Press Office | Twitter | LinkedIn | Instagram |
Media Contact
Journalists seeking information about CCP or its products, wanting to set up interviews or needing further assets should contact media@ccpgames.com.
# # #