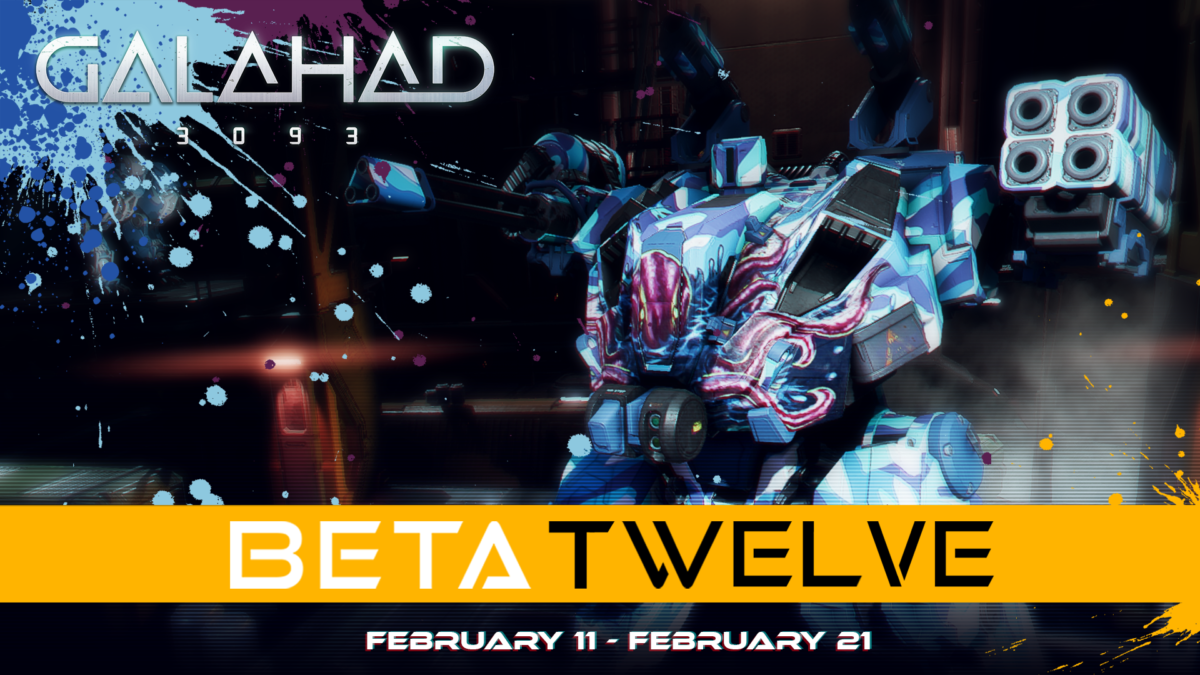 Conquer a mountainous new map, personalize your Lance, and more
ST. LOUIS, Mo. — February 11, 2022 — Simutronics today launched the next extended open beta for its upcoming mech hero shooter GALAHAD 3093. Live today at 6 p.m. Eastern Time through Monday, February 21 at 9 a.m. Eastern Time, players can once again launch into fast-paced mech warfare on a new map and with enhanced Lance customization tools. Players can join the beta for free on PC by clicking "Request Access" on the game's Steam page. 
Check out the beta's trailer here: https://youtu.be/DvhfZblfhpw
With this extended beta, GALAHAD 3093 introduces the following features and improvements:
Win the Two-Base Battle: Fight for control of SFG Heavy Industries, a new two-base map that divides teams with a giant ridge. Players can traverse the ridge by vaulting over it or by exploring the factory built inside.
Stand Out with Skins: Make your Lance your own with Skins 2.0, which adds nose art and 200 decals to Lance customization. Tailor each part of your Lance to make an impression on the battlefield.
A More Fair Fight: Battle against Knights of the same skill level with improved matchmaking for new players.
In the sci-fi future world of GALAHAD 3093, Knights – mech operators inspired by Arthurian legend – fight for glory in 32-player arenas. They pilot Lances – mechs capable of massive destruction – in a never-ending battle to capture and hold territory.
Lances are highly customizable: classes range from Light to Super Heavy and can be outfitted with a wide variety of weapons, deployable systems, and tech modules. Knights are the heroes who provide unique active and passive abilities, ranging from aerial bombardments to drop shields, further customizing your loadout. With thousands of potential build permutations, GALAHAD 3093 lets players create a wide variety of unique builds to fit any playstyle.
For more information on GALAHAD 3093, visit GALAHAD3093.com and follow the game on Facebook, Instagram, Twitter, and YouTube. Players can also join the Discord community for updates directly from the developers.
Assets for GALAHAD 3093 can be found in the press kit.
# # #
About Simutronics
Simutronics is a games developer based in St. Louis. With over three decades of experience, Simutronics is a leader in the business of online multiplayer games and persistent worlds that people continue to play today like GemStone IV and DragonRealms. It helped pioneer the online shooter genre with CyberStrike and has created award-winning mobile games such as the Siege series, One Epic Knight, and Tiny Heroes.
Press Contact
TriplePoint on behalf of Simutronics