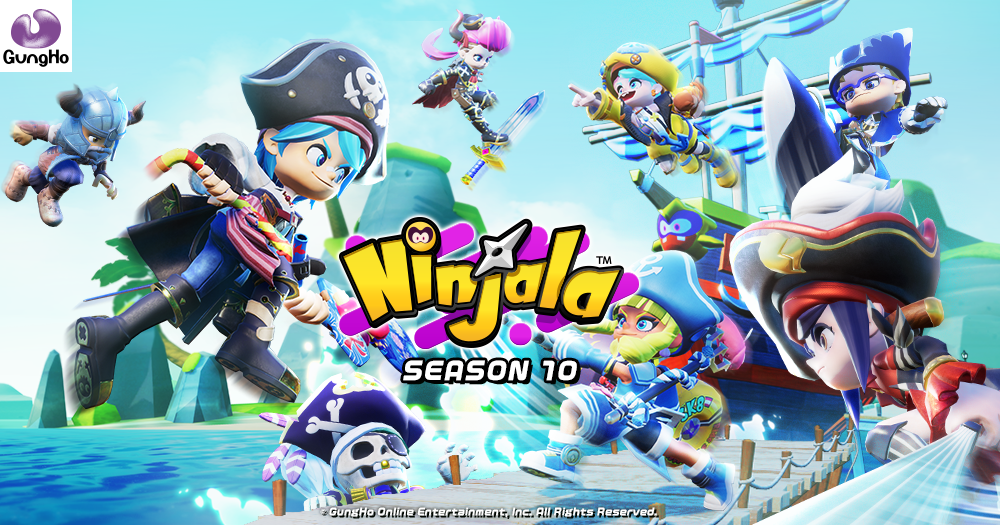 Pirates follow the map to a wealth of new features in the latest season of the gum-based action game
TOKYO, Japan – June 16, 2022 – Raise the jolly roger and prepare to walk the plank as Season 10 begins today in Ninjala! GungHo Online Entertainment is celebrating the game's second anniversary with a season packed with exclusive content, including plenty of hidden treasures.
To celebrate the anniversary, players will get 500 Jala and a Ninjala Pass Mini for free if they log in between now and June 30. The Shinobi Shop is also having a 30% off sale for all players during this time. Pick up some pirate-themed swag and deck out your character for the season.
Bring on the Pirates!
Now through September 28, swashbuckling ninjas set their sights on tons of loot and game features, including:
Voice Chat: Talk strategy with teammates in a battle, or chat with friends while you duke it out. You can toggle voice chat on and off in Room Battles.
New Shinobi Card: The latest Shinobi Card for Season 10 is "Berserker." This card helps players channel their inner warrior to unlock max S-Energy for every K.O. But be careful, because activating this card will reduce Drone damage. It's the perfect card for the latest Featured Battle…
New Featured Battle: Like a true pirate, duel with other ninjas one-on-one in Man to Man Brawl! Players can trade blows directly with friends and rivals, and the first person to earn three points takes all. There are no Drones in this mode, and both players start at 10 S-Energy with a big weapon. K.O.s are worth one point and IPPONs are worth two.
Mix Up Your Specials
Starting now, players can unlock "Alter Specials" on weapons through Ninja Gum Research. Using this ability changes special attacks on weapons, like swapping out the dash attack on the IPPON Katana for a ranged attack. Players also gain extra favorite slots for outfits and equipment.
Hit the Beach
The WNA Resort is officially open for the season. To celebrate the much-anticipated opening, players can throw bronze medals into the Goddess's Fountain for Assist Codes and exclusive Ninja-Gum skins. Players earn increased EXP for every bronze medal they toss in the fountain. Throwing in more increases your chance for a "lucky animation" on a good pull to make "Gumchi of the Fountain" appear!
Test Your Skills
Starting in Season 10, players can take on the weekly "Shinobi Challenge" from the Ninja Lab. Battle through five challenges, each with a specific victory condition. If players succeed, they win special prizes, with rare treats given for clearing all five battles. Players get one free chance a day to beat the challenge, and they are able to spend Jala to earn extra tries.
Ninjala is an online Ninja-Gum action game featuring a colorful cast of ninjas who battle it out in action-packed clashes while free-running across dynamic environments. These young descendants of ancient ninja clans wield a variety of special items and abilities, highlighted by the use of distinctive "Ninja-Gum" weapons. Check out the trailer here.
Press assets can be found here.
To learn more about Ninjala, visit the official website, Twitter, Facebook, or YouTube.
###
ABOUT GUNGHO ONLINE ENTERTAINMENT AMERICA
GungHo Online Entertainment America, Inc. (GOEA) is a multiplatform publisher dedicated to delivering the best titles, content, and support for the online gaming community. Established in 2012 and led by former Square Enix U.S.A. and XSEED Games executive Jun Iwasaki, GOEA is the US division of GungHo Online Entertainment (GOE), an established Japanese publisher. GOEA's content partners include leading developers SUPERTRICK GAMES, Game Arts, Acquire, and Gravity, all of which are subsidiaries of GOE. GOEA publishes and distributes network-oriented games for console, handheld, mobile, tablet, and MMO-style games for PC. GOEA is located in Redondo Beach, CA. For more information, visit www.gunghoonline.com.
Trademarks are property of their respective owners. Nintendo Switch is a trademark of Nintendo.
© GungHo Online Entertainment, Inc.
MEDIA CONTACT
GUNGHO ONLINE ENTERTAINMENT AMERICA
Natsuki Nishikawa
Senior Communications Coordinator
natsuki@gunghoonline.com
TriplePoint on behalf of GOEA
gungho@triplepointpr.com
+1-415-955-8500