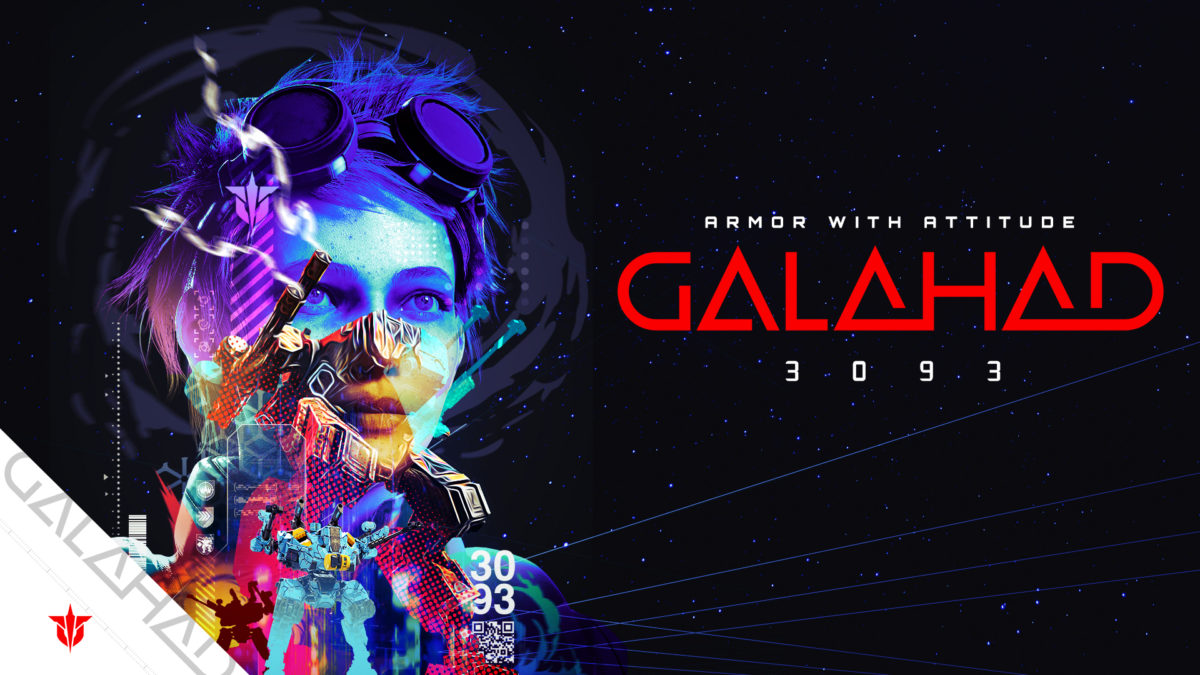 GALAHAD's Final Beta introduces dynamic map events, starting with a gargantuan sandworm, adding variety to matches — wishlist on Steam now
ST. LOUIS, Mo. — July 28, 2022 — Today, Simutronics announced its upcoming mech hero shooter GALAHAD 3093 will launch into Early Access on September 1. Players who want to check out the game before the Early Access launch have one last opportunity with a final open extended beta. Live today, July 28, at 6 p.m. ET through Monday, August 8, at 11 a.m. ET, the 11-day beta introduces a monster-sized sandworm map event, personalized banners, and more. Players can visit GALAHAD 3093's Steam page to join the beta for free via the "Request Access" button. Mech pilots can wishlist GALAHAD 3093 today to stay up-to-date on the game's Early Access launch.
In the sci-fi future world of GALAHAD 3093, Knights – mech operators inspired by Arthurian legend – fight for glory in epic arenas. They pilot Lances – mechs capable of massive destruction – in a never-ending battle to capture and hold territory. Check out the Final Beta trailer and get a preview of the sandworm here.
"Since GALAHAD 3093 entered beta in late 2020, we have added five maps, a tutorial, a squad system, hundreds of customization options, countless balancing tweaks, and more," Simutronics CEO David Whatley said. "The game has evolved thanks to feedback from our players, and Early Access is our next phase of development. We are committed to building the definitive mech shooter experience alongside and hand-in-hand with our community."
GALAHAD 3093's Final Beta Key Features:
Lance A Lot: Lances are highly customizable: classes range from Light to Super Heavy and can be outfitted with a wide variety of weapons, deployable systems, and tech modules.
Knights of the Round: Lance pilots, known as Knights, provide unique active and passive abilities, ranging from aerial bombardments to drop shields, further customizing your loadout. With millions of potential build permutations, GALAHAD 3093 lets players create a wide variety of unique builds to fit any playstyle.
Prepare for Battle: Tailor your mech's abilities with seven more Intrinsic Modules like armor repair, landing impact damage, and target tracking.
Something Wicked This Way Comes: Bayesian Canyons has a new resident — a gargantuan killer sandworm! Players must look out for this giant beast, which periodically bursts from the ground and damages unsuspecting pilots in the area.
Raise Your Banner: Celebrate your wins in style with Knight Banners. These animated emblems appear as a victorious backdrop during the kill screen and for the MVP at end of match.
Improved Audio: Immerse yourself in the mech cockpit like never before with overhauled audio for fan-favorite weapons like the Wraith, Brimstone, and Banshee.
Players can get a fun look at the Final Beta today during a two-hour livestream featuring AC7IONMAN, SushiBAE, Surfnboy, and more. Kicking off at 8 p.m. Eastern, e-sports pros take on Simutronics developers and GALAHAD 3093 community veterans in mech warfare. Simutronics also announced it is showcasing GALAHAD 3093 at PAX West 2022, where it will demo the Early Access build from September 2-5 at the Seattle Convention Center.
For more information on GALAHAD 3093, visit GALAHAD3093.com and follow the game on Facebook, Instagram, Twitter, and YouTube. Players can also join the Discord community for updates directly from the developers.
Assets for GALAHAD 3093 can be found in the press kit. 
---
About Simutronics
Simutronics is a games developer based in St. Louis. With over three decades of experience, Simutronics is a leader in the business of online multiplayer games and persistent worlds that people continue to play today like GemStone IV and DragonRealms. It helped pioneer the online shooter genre with CyberStrike and has created award-winning mobile games such as the Siege series, One Epic Knight, and Tiny Heroes.
Press Contact
TriplePoint on behalf of Simutronics