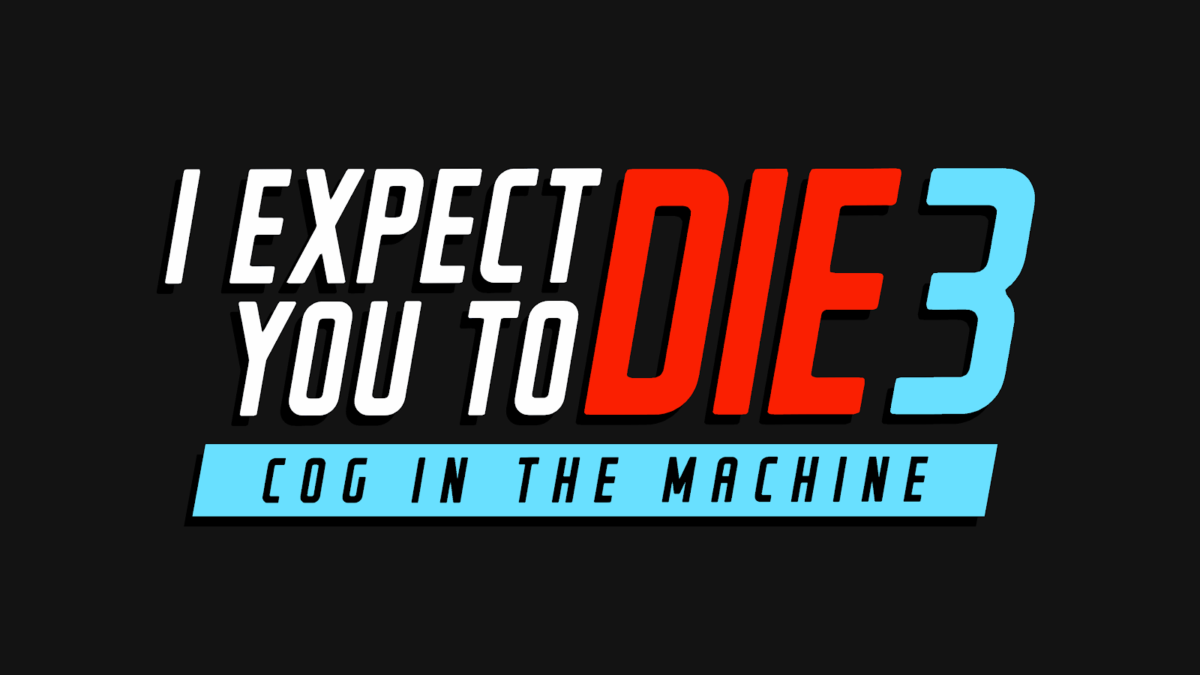 Welcome Back, Agents! Prepare For The Three-Quel
PITTSBURGH, PA — FEBRUARY 21, 2023 — Today, Schell Games released a trailer to announce I Expect You To Die 3: Cog In The Machine, the next installment of the award-winning I Expect You To Die franchise. The three-quel will be available to Agents across the globe in 2023 on Meta Quest and Steam.
In I Expect You To Die 3, players must outwit their most cunning adversary to date in this spy-themed VR puzzle series. Players will experience brand-new missions, wield complex gadgets, visit action-packed locales, engage with robots, harness the power of telekinesis, and wear custom attire as they dive back into the world of espionage.
"I Expect You To Die launched in 2016, and the franchise has expanded beyond our expectations thanks to the passion and hard work of the development teams and our amazing fans," said Jesse Schell, CEO of Schell Games. "We are truly grateful for the community of Secret Agents who supported the series over the years, and we're excited to declassify top secret missions that anyone can enjoy."
The three-quel is full of the classic I Expect You To Die hilarity. From cheeky jokes to multiple outrageous puzzle solutions, players familiar and new to the franchise will enjoy tactical challenges in tandem with light-hearted humor.
Building on the first game's success, I Expect You To Die 2: The Spy And The Liar won several awards, including the Unity Awards, the NYX Game Awards, and the Telly Awards. The game was nominated for several prominent awards, including the Game Awards, Steam's Game of the Year Awards, the D.I.C.E. Awards, SXSW, the Develop:Star Awards, and the VR Awards. Between I Expect You To Die and I Expect You To Die 2, the franchise has racked up 38 award wins or nominations. I Expect You To Die 2 also surpassed $1M in revenue less than a week after launch and continues to be a top seller on the VR charts for Meta Quest and Steam.
"We have some unique and exciting locations in I Expect You To Die 3, and we can't wait to see how players creatively solve puzzles in a race to beat Dr. Zor at his own game," said Matt Mahon, VP of Engineering and Project Director for I Expect You To Die 3. "Players new to the series can jump right in and have a great time, and returning fans will appreciate some fun nods to the prior games."
I Expect You To Die and I Expect You To Die 2 are available now at a 20% discount in a Duo Bundle on the Meta Quest and Steam stores for players who want to prepare themselves for the next mission.
For more information, sign up for the email newsletter on the newly updated website, wishlist the game on Steam, join the community Discord, or view the press kit.
# # #
About Schell Games
Schell Games is the largest full-service entertainment and educational game development company in the United States. Founded in 2002 by award-winning game designer and author Jesse Schell, the company's talented array of artists, engineers, producers, and game designers create original games for PC, VR/AR, and mobile, including Among Us VR, a brand new VR experience inspired by the award-winning original game; I Expect You To Die, an award-winning VR puzzle game franchise; Until You Fall, a VR sword fighting game; Happy Atoms, a digital and physical interactive molecular chemistry learning set; Lost Recipes, a VR historical cooking simulator; and HoloLAB Champions, a VR chemistry lab practice game. In addition to creating original games, the company counts some of the world's most respected brands as clients, including The Walt Disney Company, Google, Meta, Microsoft, LEGO, Yale University, Universal Studios, Fred Rogers Productions, holoride, The Smithsonian Institute, and the US Department of Education. For more information on Schell Games, visit https://www.schellgames.com.
About Meta Quest
The Meta Quest team at Reality Labs lets people defy distance—connecting with each other and the world—through world-class VR hardware and software. The Meta Quest content team pursues the creation of best-in-class games, narrative experiences, and new VR use-cases like fitness, productivity, and travel. Meta Quest is dedicated to building the next computing platform centered around people and is committed to helping bring the metaverse to life.