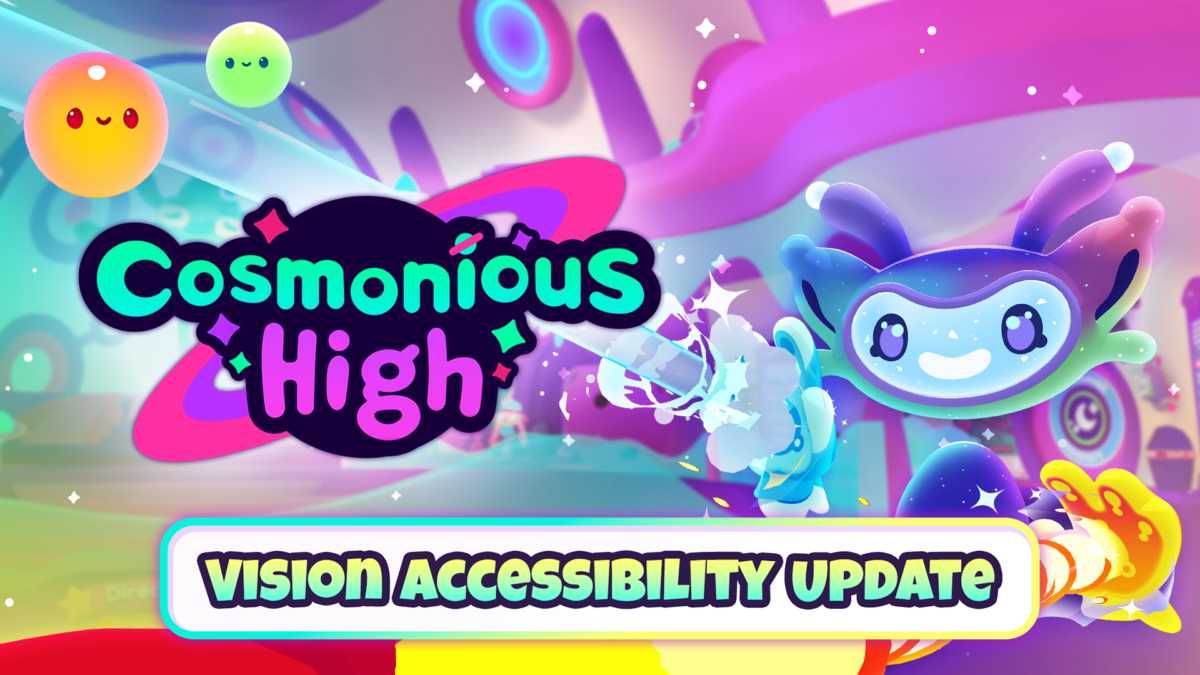 Created after intensive research and tests, this first-of-its-kind update makes VR accessible to players with vision impairments
AUSTIN, Texas – March 14, 2023 – Owlchemy Labs today announced that their alien adventure VR game, Cosmonious High, received a Vision Accessibility Update (VAU). The VAU is a first-of-its-kind update adding features to make Cosmonious High accessible to players with vision impairments, showcasing Owlchemy's commitment to their "VR for Everyone" philosophy.  The VAU is available as a free download for all players who own Cosmonious High on Quest 2, PlayStation® VR2, and SteamVR.  
The VAU was made possible through collaborations with accessibility consultants, providing valuable information around tackling challenges players with vision impairments face in VR. Playtest sessions with players who have low-vision conditions gave Owlchemy Labs real-world data to develop accessibility features, such as an assist button that can be toggled at any time. In testing sessions, 100% of low-vision players were able to complete entire sections of the game.
The Vision Accessibility Update (VAU) incorporates the following features:
Tutorial Descriptions: Audio provides instructions in places where controls or actions are shown.
Teleportation Descriptions: Players can point their controller at an area for a description of the location before moving. The location is repeated after the player teleports.
Object Highlighting: Key objects have a high-contrast outline, allowing players with low-light vision to see them more clearly.
Object Descriptions: Players can use vision assistance, which describes what the player is holding while the assist button is pressed. Players can also use vision assistance to hear an audio description of items they're pointing at, including larger items, flyers, and items hung on walls.
Grab and Release Confirmation: When the assist button is held down, players are notified when an item is picked up or released.
Environmental Descriptions: Players are given a brief description of areas as they enter them.
All accessibility features can be turned on and toggled via the player's backpack, which players can access at any time by reaching over their shoulder.
"We believe that VR gaming should be accessible to everyone, regardless of their abilities," said Jazmin Cano, Accessibility Product Manager at Owlchemy Labs. "The Vision Accessibility Update is the first of its kind, not just at Owlchemy Labs but for VR gaming as a whole. We want to tear down barriers for all gamers, and this is another great step in that direction."
"As a gamer with low vision, I have often felt excluded from the world of VR gaming. That's starting to change with the work Owlchemy has put into the Vision Accessibility Update for Cosmonious High. I feel like we're opening this exciting and immersive world to other players who have never been able to experience VR," said Steve Saylor, an Independent Accessibility Advocate and Consultant on the Vision Accessibility Update. "The combination of visual descriptions, contrasting colors, and other tools make it possible for me to experience VR in a way I never thought possible. This update is a game-changer for low-vision gamers everywhere, and I am proud to have been a part of its development."
Cosmonious High is an alien adventure where players take the role of a Prismi, a rare alien species that develops super powers when they're in a stressful situation, on their first day of school. When Cosmonious High is hit by a meteor shower, a series of mechanical issues force the player to adapt and use new powers to save the school. The school also hosts a colorful cast of alien teens, each with their own story and motivation, that the player can befriend. The game previously received an Accessibility Update that included tools for gamers with physical and cognitive disabilities.
Owlchemy Labs encourages players to try the new update and share their feedback to help improve the accessibility of VR gaming for all players. For more information on the Vision Accessibility Update head over to the Owlchemy Labs blog here.
Assets for the VAU can be found here.
---
About Owlchemy Labs
Owlchemy Labs is an XR studio with a passion for polished, playful VR games and experiences. Founded in 2010 and based out of Austin, TX, we believe that natural, spatial interactions make virtual reality the ultimate destination for new forms of gameplay and immersion. We love building experiences for everyone: oozing with style, absurdly funny, and with ground-breaking accessibility to bring more joy to more people. Our titles include the award-winning, platinum-selling VR launch title "Job Simulator", the Emmy-nominated "Rick and Morty: Virtual Rick-ality", and our latest top ten VR title "Vacation Simulator". Owlchemy was acquired by Google in 2017 and continues to share its pioneering experiments and VR best practices through blog posts, white papers, and talks around the globe.
More information about Owlchemy Labs can be found at owlchemylabs.com.
Media Contact
TriplePoint on Behalf of Owlchemy Labsowlchemy@triplepointpr.com