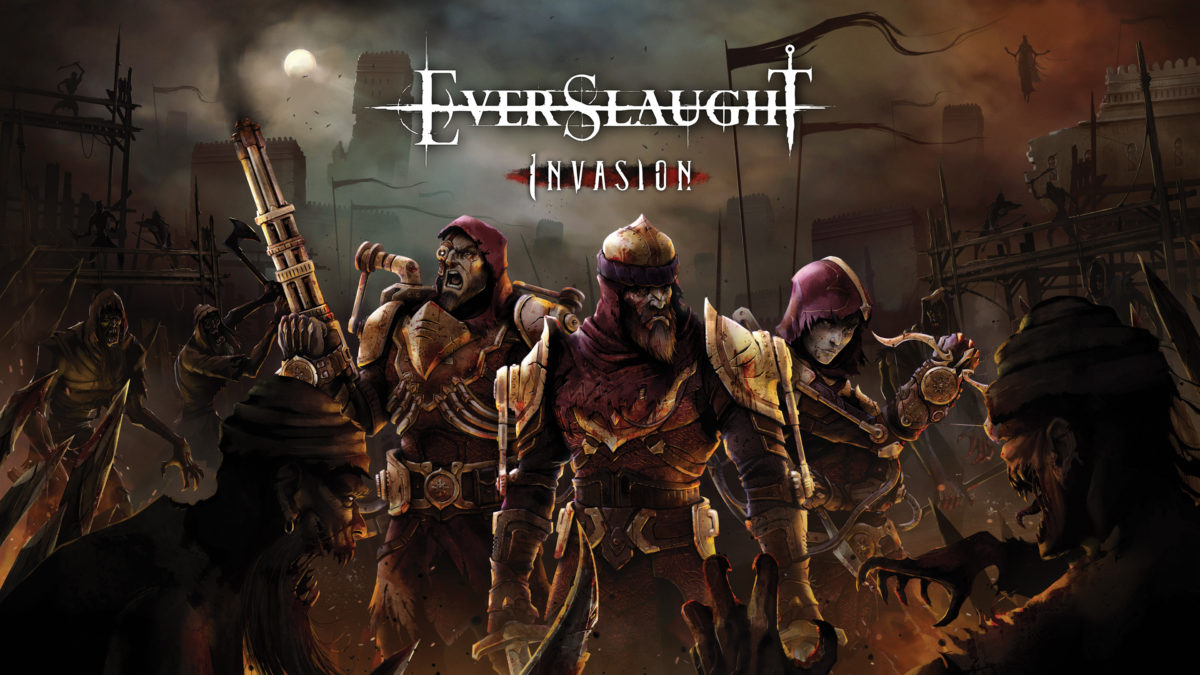 Gear up, grab a friend, and dive into MobX Games' action-packed title for $24.99
STOCKHOLM – May 25, 2023 – Today, Fast Travel Games and developer MobX Games launched EVERSLAUGHT Invasion, the co-op VR action game, for Meta Quest 2. Team up with a friend and play as one of three distinct classes to defeat an onslaught of enemies in this dark fantasy title. Purchase EVERSLAUGHT Invasion now on the Meta Quest Store for $24.99.
Get a glimpse of the challenges that lie ahead in the launch trailer here: https://youtu.be/9GEyz28F3BM
In EVERSLAUGHT Invasion, players must defeat hordes of enemies to combat the impending calamity known as the Great Corruption. Choose between a Warrior, Rogue, or Vanguard, and use each class's unique toolset – including the versatile hookshot – to keep the enemy at bay. Explore the map to gather essential resources and loot to increase chances of survival, and utilize the game's deep progression system to upgrade skills and weaponry.
Features include:
HIGH-MOBILITY ACTION: Experience complete freedom of movement in awe-inspiring, hand-crafted environments. Run, dash, jump, and grapple without restrictions.
ARMY OF TWO: Take on the invading hordes alone or with a friend to complement each other's skills and weapons for endless replay value.
DISTINCT CLASSES: Choose between the Warrior, Rogue, or Vanguard classes and unleash your character's unique gauntlet weapon to keep the enemy at bay.
DEEP PROGRESSION SYSTEM: Unlock weapons, maps, lore items, gauntlet upgrades, and character skills to increase each class's power level.
Download the media kit here.
For the latest information, visit the game's website and follow EVERSLAUGHT Invasion on Twitter and Facebook.
---
About Fast Travel Games
Fast Travel Games is a VR exclusive games developer and publisher based in Stockholm, founded by industry-leading veterans and behind critically acclaimed VR titles such as Apex Construct, The Curious Tale of the Stolen Pets, and Wraith: The Oblivion – Afterlife. Our mission is to create high-quality VR games with believable interactions, set in immersive worlds and populated with memorable characters.
About Mobx Games
MobX Games is an independent game development studio with a passion to create high-quality VR games that push the limits of this new and exciting medium. Exploring fun and creative mechanics designed specifically for VR is what makes the team at MobX tick. Their games are fully geared towards a VR hardcore gaming audience, as seen in their first released title EVERSLAUGHT.
Media Contact
TriplePoint for Fast Travel Games
fasttravelgames@triplepointpr.com
(US+1) 415-955-8500