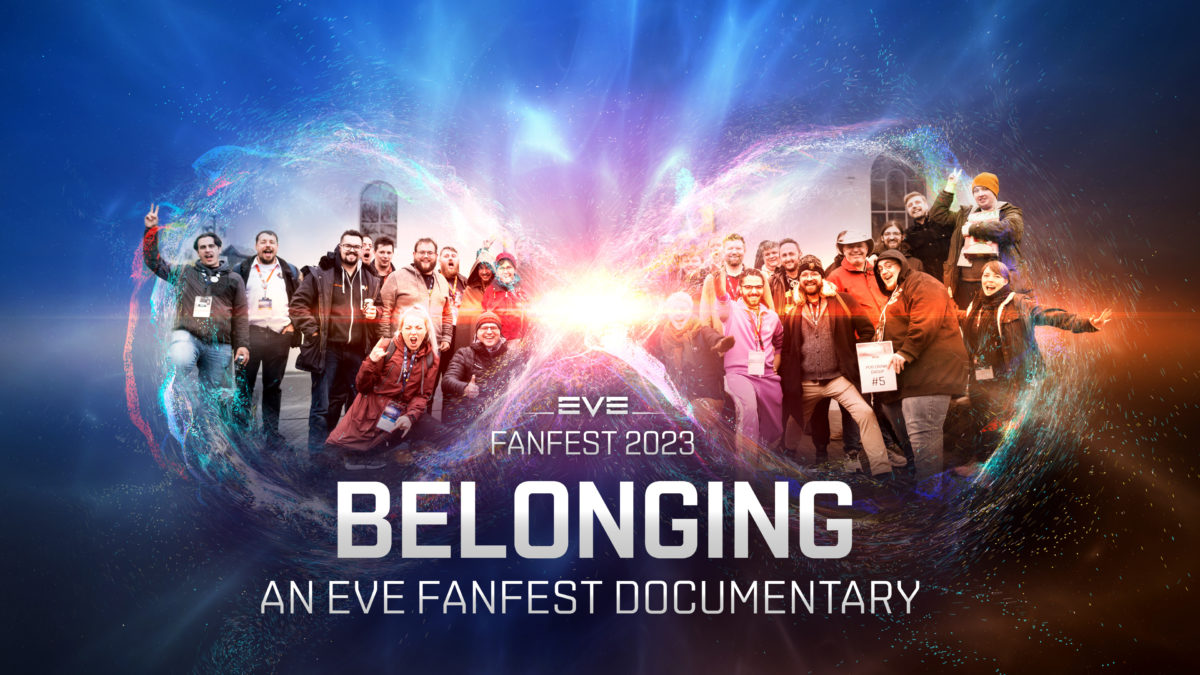 Sci-fi fans can wishlist the limited EVE Online 20th Anniversary Collector's Edition now before pre-orders open on July 7
REYKJAVÍK, Iceland – May 31, 2023 – Looking ahead to EVE Fanfest 2023 celebrating sci-fi spacefaring MMO EVE Online's historic 20th anniversary, CCP Games today released Belonging: An EVE Fanfest Documentary, which explores the power of community and the impact the event has upon the titular game. CCP also debuted 'On Top of The World,' the first song from its new in-house band, Crowd Kon7rol. Additionally, the official countdown page for the reveal of EVE's '20th Anniversary Collector's Edition' has gone live.
Belonging: An EVE Fanfest Documentary dives deep into the fervor that fuels the EVE Online community. Produced by The Escapist and filmed throughout Fanfest 2022, it pulls back the curtain on EVE's signature annual convention, exploring the impact of its dedicated and passionate fanbase. The first of two documentaries, CCP will premiere 'The Making of EVE Online' at Fanfest 2023 itself, showcasing how the renowned MMO has evolved over two decades.
YouTube: https://youtu.be/kXRuDo8EEoI
"Belonging: An EVE Fanfest Documentary captures the magnificence of the EVE community. It shows how Fanfest is unlike any other gathering – it's where in-game alliances are formed or rent asunder, and where the bonds of lifelong friendship are forged or renewed, creating an experience you won't find anywhere else in the world," said Hilmar Veigar Pétursson, CEO of CCP Games. "Fanfest 2023 is shaping up to be the largest and most symbolic community gathering in CCP's history. It's the perfect way to celebrate EVE's historic 20th anniversary."
Fanfest 2023 will mark the debut performance of Crowd Kon7rol as CCP's official in-house band. Over 1,000 Capsuleers and counting are attending this year's epic event to commemorate the MMO's 20-year legacy, which will feature a lineup of VIP speakers, including astrophysicist Mark McCaughrean, "Empires of EVE" author Andrew Groen, and NASA JPL's Charles "Space Pope" White. Tickets for Fanfest 2023 are still available on Eventbrite ($295 USD), and further details about the event can be found at www.eveonline.com/fanfest.
YouTube: https://youtu.be/p_Yh6AupvRw
Commemorating the MMO's two decades of continuous operation, CCP Games has also partnered with publisher Limited Run to create a '20th Anniversary Collector's Edition' for EVE Online, a generously-packed boxed set celebrating the history, legacy and community of EVE. The official countdown to its full reveal is now live, enabling visitors to wishlist the collector's edition before pre-orders open on Friday 7 July 2023.
For more information about celebratory events happening this year in and outside New Eden, visit EVE News. EVE Online can be downloaded for free by visiting www.eveonline.com. For the press kit, go here.
###
About EVE Online®
EVE Online (PC/Mac) is a compelling, community-driven sci-fi MMO game where players can build and pilot a wide variety of spaceships, traversing vast solar systems for free and choosing their own path from countless options, experiencing space exploration, immense PvP and PvE battles, mining, industry and a sophisticated player economy in an ever-expanding sandbox. EVE is a captivating game in which hundreds of thousands of players compete for riches, power, glory and adventure, forging their own destinies in a single thriving universe.
Website | Press Kit | Twitter | Facebook | Instagram | YouTube | Twitch
About CCP
CCP is a leading independent game developer that has been praised for its artistry, technology and game design that facilitates emergent behavior, empowering players with compelling means of self-expression. Founded in 1997 on the principle of pushing the envelope and breaking new ground on all levels, CCP is on a mission to create virtual worlds more meaningful than real life. With the launch of EVE Online in May 2003, CCP established itself as a pioneer of cutting edge massively multiplayer games, winning numerous awards and receiving critical acclaim worldwide. CCP is headquartered in Reykjavik, Iceland, and has additional studios in London and Shanghai.
Website | Press Kit | Twitter | Facebook | Instagram | YouTube| Linkedin
Media Contact
Journalists seeking information about CCP or its products, looking to arrange interviews or needing further assets should contact media@ccpgames.com.