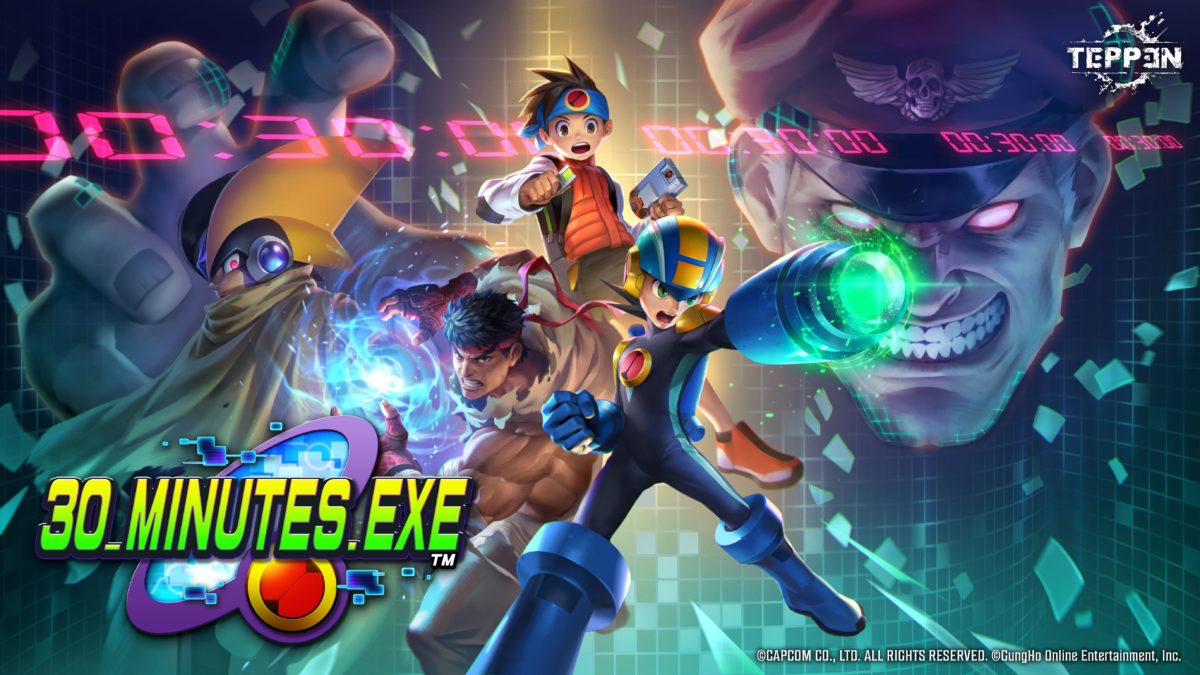 The Mega Man Battle Network series joins the fray in the countdown to city-wide destruction
TOKYO, Japan – July 3, 2023 – Stock up on Battle Chips and net a victory as the "30_MINUTES.EXE" card pack launches in TEPPEN today. The Mega Man Battle Network series has plugged-in to race against a ticking digital doomsday clock, joining beloved characters from the Monster Hunter series, Street Fighter series, the Resident Evil series, and more.
Check out the "30_MINUTES.EXE" trailer here.
Tick Tock
Thousands of years after an ecological disaster, the descendants of an advanced civilization have created a peaceful Cyberworld. In the R&D hub of Den City, a broadcast shatters the peace as mysterious invaders start a countdown to the destruction of their world. RiCO from Mega Man X DiVE, who watches over the city to keep its residents safe, tasks Ryu from the Street Fighter series with saving the day – but he'll need help! Enter Lan Hikari and MegaMan.EXE from the Mega Man Battle Network series, along with his trusted friends and their Net Navis. It's time to deploy every last Battle Chip they have to defeat the invaders before the clock hits zero.
New Cards
Face off against the mysterious invaders… or join them! The Black card "Network Invader M. Bison," the Purple card "Crimson NetNavi ProtoMan.EXE," the Red Card "Blazing NetNavi FireMan.EXE," and the Green Card "Justice NetNavi MegaMan.EXE" all enter the fray! Here's a look at Network Invader M. Bison:
Type: Unit
Tribe: Human
Rarity: 6
Attack: 2
HP: 11
Effects:

<Veil>
<Quest>: The enemy Hero or an enemy unit takes 6 or more damage.

Lv. 2: Place 1 CyberBoss M. Bison Virus onto the field.
Challenges and Modes
The limited-time Event Quest "30_MINUTES.EXE" challenges players to defeat viruses and strengthen their decks to save Den City. Players can earn new relics and player icons— including Bass.EXE—as a reward.
Light some candles because it's time to celebrate TEPPEN's 4th Anniversary! To mark the occasion, players can obtain Skin Pack Tickets to trade in for one of 28 different skins, with a guaranteed no duplicates for every ticket. Felicia from the Darkstalkers series is making her Hero debut for the anniversary with a TEPPEN-exclusive design as an EX Skin for Nergigante from the Monster Hunter series, which will be available starting in July. Players can receive 50 free card pack tickets throughout the campaign, including 10 cards from 30_MINUTES.EXE playable immediately in standard mode. Additionally, first-time players will receive 50 Core Pack Tickets to start their TEPPEN journey. Head to the Exchange for a free season pass, skin packs, and special 4th Anniversary-themed items and packs.
For those that relish Relics, take your Jewels to the Exchange to trade for decks with pre-equipped Relics. Four decks will be released in July, based on the Street Fighter series, Megaman X series, Devil May Cry series, and Resident Evil series. There are also new and returning BGMs, including the 'Theme of M. Bison' from Street Fighter V and 'VS. Life Virus' from the Mega Man Battle Network series, both available from July 14 to August 1. Additional returning BGM will be available from July 3 to September 1, based on characters from the Mega Man X series, Resident Evil series, and more.
Card Rotation
The "Super Spooky Village" card set rotates out of Standard Mode with the introduction of "30_MINUTES.EXE."
Assets for "30_MINUTES.EXE" can be found here.
Download TEPPEN on the App Store, Google Play, and the Amazon Appstore.
###
ABOUT TEPPEN
Immerse yourself in the All-Star action with TEPPEN – the ultimate card battle experience! Co-developed by GungHo Online Entertainment and Capcom, TEPPEN combines real-time gameplay and eye-catching visuals with explosive action. TEPPEN's state-of-the-art battle system sets it apart from other card games, and the beautifully designed cards allow players to take command of iconic Heroes from renowned Capcom franchises such as the Monster Hunter series, Devil May Cry series, Street Fighter series, Resident Evil series, and more. For more information, visit the official website: teppenthegame.com.
©GungHo Online Entertainment, Inc.
©CAPCOM CO., LTD. ALL RIGHTS RESERVED.
ABOUT CAPCOM
Capcom is a leading worldwide developer, publisher and distributor of interactive entertainment for game consoles, PCs, handheld and wireless devices. Founded in 1983, the company has created hundreds of games including ground-breaking franchises Resident Evil™, Street Fighter™, Monster Hunter™, Ace Attorney™, Mega Man™ and Devil May Cry™. Capcom maintains operations in the U.S., U.K., France, Germany, Tokyo, Taiwan, Hong Kong and Korea, with corporate headquarters located in Osaka, Japan. More information about Capcom and its products can be found at www.capcom.com or www.capcom-unity.com.
Capcom, the Capcom logo, Ace Attorney, Devil May Cry, Mega Man, Monster Hunter and Resident Evil are trademarks of Capcom Co., Ltd., in the U.S. or other countries. Street Fighter is a trademark of Capcom U.S.A., Inc.
ABOUT GUNGHO ONLINE ENTERTAINMENT AMERICA
GungHo Online Entertainment America, Inc. (GOEA) is a multi-platform developer and publisher dedicated to delivering the best titles, content, and support for the gaming community. Established in 2012 under the experienced leadership of former Square Enix U.S.A. executive Jun Iwasaki, GOEA is the US division of GungHo Online Entertainment (GOE). GOEA's content partners include leading developers SUPERTRICK GAMES, Game Arts, Acquire, and Gravity, all of which are subsidiaries of GOE. GOEA develops, publishes, and distributes games for consoles, handhelds, mobile devices, and PC. GOEA is located in Redondo Beach, CA. For more information, visit www.gunghoonline.com.
MEDIA CONTACT
GUNGHO ONLINE ENTERTAINMENT AMERICA
Natsuki Nishikawa
Senior Communications Coordinator
natsuki@gunghoonline.com
TriplePoint on behalf of GOEA
gungho@triplepointpr.com
+1-415-955-8500