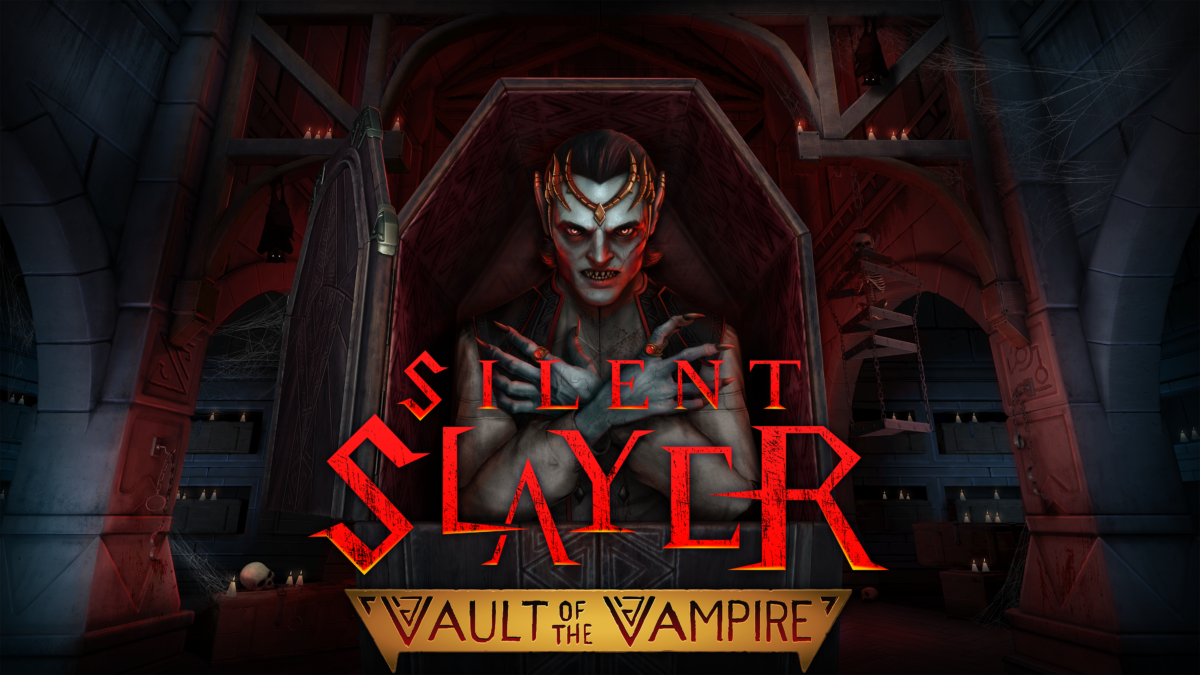 Become a slayer and vanquish an ancient vampiric council on Meta Quest platforms in 2024
PITTSBURGH, PA — OCTOBER 31, 2023 – Schell Games today revealed gameplay for Silent Slayer: Vault of the Vampire, the studio's debut VR horror title. Silent Slayer is a thrilling single-player jumpscare horror game where players must quietly destroy slumbering vampires before they wake. The game will launch in 2024 for Meta Quest 2, Meta Quest Pro, and Meta Quest 3 VR headsets, and eager slayers can wishlist the game today on the Meta Quest Store.
Get a glimpse of the spine-chilling experience that awaits in the gameplay trailer here: https://www.youtube.com/watch?v=uaMQX5V4FbU
In Silent Slayer: Vault of the Vampire, players embark on a mythic quest to defeat a powerful clan of ancient vampires. Players must carefully dismantle their coffins' defenses using various tools, creating the perfect opportunity to plunge a stake through the heart of undead foes. Silence and precision are key – one wrong move and the fanged monsters will rise, immediately draining the player's life force.
"After our success with the I Expect You To Die franchise and Among Us VR, our team started exploring other ways to create suspenseful VR experiences. A small team created a prototype all about stealthily opening a vampire's coffin, and after jumping out of our skin several times while playing it, we all could see right away it would be an amazing game," said Jesse Schell, CEO of Schell Games. "Silent Slayer continues our tradition of pushing VR to its limits, offering players a rich, horror-filled experience overflowing with more jumpscares than you can shake a stake at!"
Silent Slayer: Vault of the Vampire key features include:
Vicious Vampires – Players who make even one wrong move will have a royal court of deadly vampires, each with their own peculiarities and macabre predilections, at the ready to sink their fangs in slayers' necks before they can say "Nosferatu."
Diabolical Defenses – Slayers will untangle increasingly imposing and intricate traps ready to be tripped by an unsteady hand.
Tactical Tools – Players will master many unique instruments, though a stake through the heart is the only way to end it.
Creepy Crawlies – Only slayers who maintain unwavering focus will have the resilience to conquer unsettling diversions.
Jumpscares Galore – Tension builds with every move. Only the bravest of souls will survive.
An Unfolding Tale – In the end, slayers will accept their fate, souls be damned.
For more information about Silent Slayer: Vault of the Vampire, sign up for the email newsletter on the game's website, join the community Discord, or view the press kit.
---
About Schell Games
Schell Games is the largest full-service entertainment and educational game development company in the United States. Founded in 2002 by award-winning game designer and author Jesse Schell, the company's talented array of artists, engineers, producers, and game designers create original games for PC, VR/AR, and mobile, including Among Us VR, a brand new VR experience inspired by the award-winning original game; I Expect You To Die, an award-winning VR puzzle game franchise; Until You Fall, a VR sword fighting game; Happy Atoms, a digital and physical interactive molecular chemistry learning set; Lost Recipes, a VR historical cooking simulator; and HoloLAB Champions, a VR chemistry lab practice game. In addition to creating original games, the company counts some of the world's most respected brands as clients, including The Walt Disney Company, Google, Meta, Microsoft, LEGO, Yale University, Universal Studios, Fred Rogers Productions, holoride, The Smithsonian Institute, and the US Department of Education. For more information on Schell Games, visit https://www.schellgames.com.
About Meta Quest
The Meta Quest team at Reality Labs lets people defy distance—connecting with each other and the world—through world-class VR hardware and software. The Meta Quest content team pursues the creation of best-in-class games, narrative experiences, and new VR use-cases like fitness, productivity, and travel. Meta Quest is dedicated to building the next computing platform centered around people and is committed to helping bring the metaverse to life.