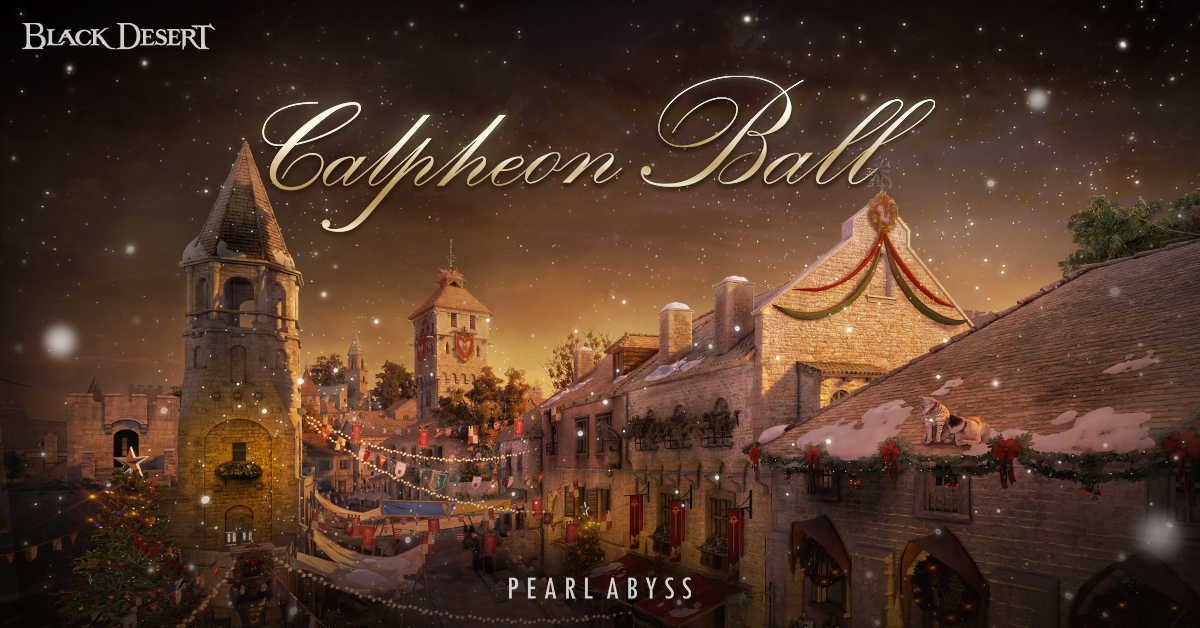 What's Next for Black Desert in 2024? Pearl Abyss Shares Annual Event Dates, Streaming Times, and More
Manhattan Beach, CA — November 13, 2023 — Pearl Abyss revealed today it will hold its annual in-real-life event, the Calpheon Ball, in Gwangmyeong City, Korea, on Saturday and Sunday, December 16 and 17. Players should expect to see and hear major news, updates, and surprises across all platforms (PC, console, and mobile) by tuning in to the developer-led livestream on Pearl Abyss' Twitch and YouTube channels at the following times:
Black Desert Online: Friday, December 15, at 10 PM PT
Black Desert Mobile: Sunday, December 17, at 1:30 AM PT
Key Art for the 2023 Calpheon Ball is available here
Preceding the Calpheon Ball, Pearl Abyss will hold a series of events to rally player excitement. By participating in the three-week event held between Thursday, November 16 and Wednesday, December 6, Adventurers can earn "Daring Calpheon Seals" to enter into contests offering rewards such as Vell's Heart, Garmoth's Heart, 2000 Cron Stones, and more.
Even if they don't win any of the above items, they will still obtain "Inspiring Calpheon Coins", exchangeable for highly valued player items like J's Hammer of Loyalty, Five Mythical Feathers, Maid for Hire Box, Supreme Old Moon Box, and more.
Black Desert is available in more than 150 countries on PC, console, and mobile. For more information, visit the official website and follow the game on Facebook, Twitter, and YouTube.
---
ABOUT BLACK DESERT IP
The Black Desert IP is Pearl Abyss' open-world action MMORPG franchise with cutting-edge visuals and skill-based combat that redefines the genre. With the most developed character customization system of any game currently on the market, players can break out of the norm and make unique characters that truly represent themselves. Its intuitive controls, beautifully designed world, and extensive lore will excite both newcomers and veterans of MMO games and action RPGs. Pearl Abyss is currently servicing the Black Desert IP, which has gained 50 million players across the world on PC, mobile, and console. 
ABOUT PEARL ABYSS
Established in 2010, Pearl Abyss is a leading developer in the game industry with its renowned MMORPG franchise Black Desert, which is available on PC, mobile, and console. All of Pearl Abyss' games are built on the company's proprietary engine and are renowned for cutting-edge graphics. Pearl Abyss is currently developing Crimson Desert, DokeV, and PLAN 8 using its next-generation game engine and is poised to grow its overseas market. More information about Pearl Abyss is available at: www.pearlabyss.com.
###
MEDIA CONTACTS
TriplePoint on behalf of Pearl Abyss
pearlabyss@triplepointpr.com

Douglass Perry
Head of Public Relations, Pearl Abyss America
douglass.perry@pearlabyss.com