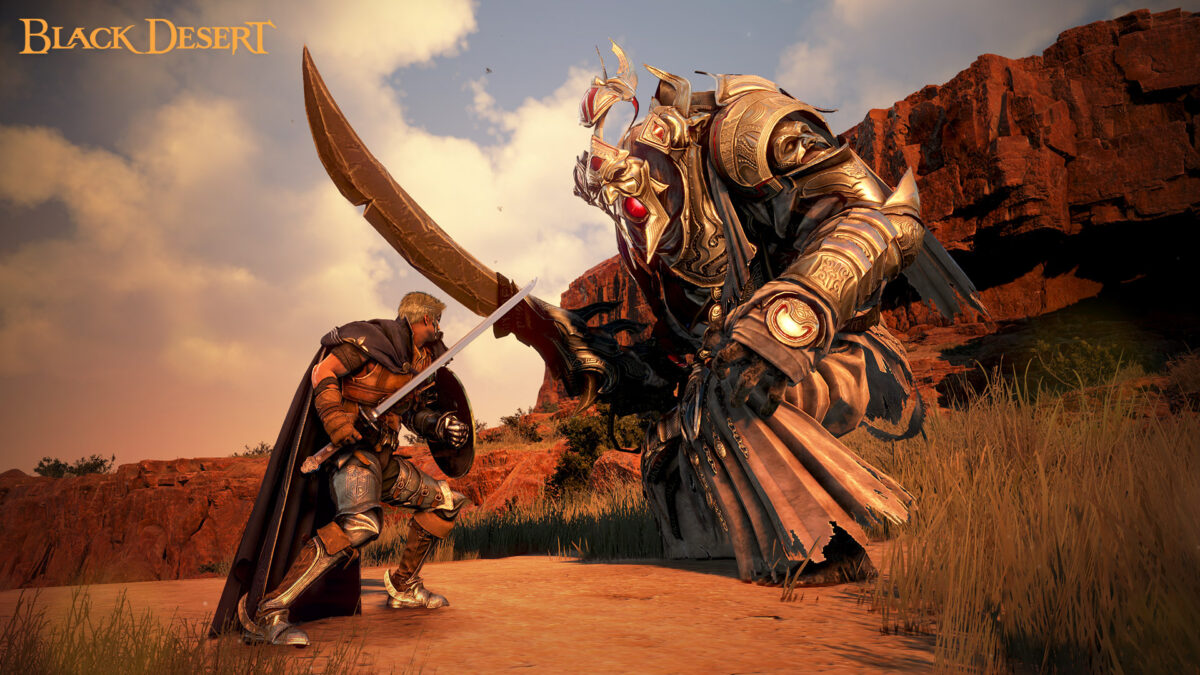 Developer Celebrates Holiday Festivities with Custom 'Arena of Solare' Practice Mode, Thanksgiving Events, Steam Sales, and Fresh Merchandise in Updated Store
Manhattan Beach, CA — November 21, 2023 — Korean developer and publisher Pearl Abyss announced today it will expand Black Desert Online's desert region 'Ulukita' with a third monster zone and new questline filled with royal familial conflict next Wednesday, November 29. Starting tomorrow, Pearl Abyss will host a trio of game events packed with valuable weapons, gear, buffs, and high-value rewards for Adventurers to enjoy in anticipation of the update.
For a limited time, Black Desert Online is 90% off Steam today until November 28 and on its main site from November 22 – 29. Get fashionable game apparel and goodies from Pearl Abyss' revamped beta merch store.
Get new Black Desert Online assets here.
FAMILY FEUD IN ULUKITA
Welcome to Ulukita! Dubbed 'Darkseekers Retreat' and located in the southern region of Ulukita, the new zone builds on the previous zones 'The City of the Dead' and the 'Tungrad Ruins.' The zone's central story revolves around the young Prince Bareeds III of Mediah, who Adventurers previously encountered living under unfortunate circumstances back in 2015! Players will be prompted to investigate the feud between the Prince and the Premier and will experience fierce fighting and an end-boss, too.

At the 'Darkseekers Retreat,' Adventurers can obtain the necessary materials for making 'Ator's Shoes', which is the last of the highest-grade armor in Black Desert, following Fallen God's Armor, Labreska's Helmet, and Dahn's Gloves. Adventurers can choose between two abilities for 'Ator's Shoes': damage reduction or evasion.

The new Ulukita zone is recommended for Adventurers with 310 AP/420 DP (Attack Power, Defensive Power) or above. The main questline is fully voice-acted and features illustration-style cutscenes like those in Land of the Morning Light.
PUNCH YOUR FRIENDS IN ARENA OF SOLARE
The PvP portion of the update introduces a full-time practice mode for the PvP Arena of Solare and a 3v3 match-type for Ranked or Practice matches. The new invite-only Custom Mode enables players to set up their own teams, including the ability to turn off matchmaking. Adventurers can swing away at each other with new fervor to hone combat skills while earning goods and rewards, such as silver and pearls. Arena of Solare's practice and custom modes will be updated on November 29 and December 6, respectively.
THANKSGIVING, ROCKS OF ABUNDANCE, AND FLUTTERING HEARTS EVENTS BEGIN
Black Desert Adventurers can engage in three different holiday events for fun and rewards running until December 6th!:
Thousand Hearts Flutter Event: Through Wednesday, December 6, Adventurers can obtain 'Daring Calpheon Seals' by simply logging in for 30 to 120 minutes every day in this pre-Calpheon Ball event. These items can be used to enter an instant raffle to obtain valuable items. For those who do not win items, players can get 'Inspiring Calpheon Coins' (100% chance), exchangeable for various rewards such as the vaunted J's Hammer of Loyalty! Either way, players win.
Thanksgiving Hunt: Players can enter the two-week Thanksgiving hunting event (beginning Wednesday, November 22 through Wednesday, December 6) to defeat wild Turkeys and earn the Blessing of Abundance Buff and Turkey Feathers. The latter can be exchanged for Dream Horse awakening materials at Velia.
Rock Collecting: During that same two-week period, while hunting, gathering, and fishing, players can collect "Rocks of Abundance". Based on the cumulative number of Rocks of Abundance obtained across all regions, Adventurers will be rewarded valuable items such as Shakatu's Splendid Box, 500 Cron Stones, and Exciting Adventure Outfit Box.
STEEP AUTUMN SALE / AMPLE MERCH STORE UPDATE
Pearl Abyss rounded out the news with a hefty, time-limited 90% off sale on its main website and Steam page, while adding a new lineup of clothing and merchandise to its upgraded store.
The Autumn Steam sale encourages new players to download Black Desert Online for 99 cents, an incredible value for an MMORPG.
The refreshed merchandise lineup brings new clothing and beanies, Black Desert plushies, and sleek new posters (featuring Land of the Morning Light and BDO classes) to its merch store, currently in beta. Shoppers can save 15% on select items during the Grand Opening Sale on purchases starting today through Thursday, November 30.
Black Desert is available in more than 150 countries on PC, console, and mobile. For more information, visit the official website and follow the game on Facebook, Twitter, and YouTube.
---
ABOUT BLACK DESERT IP
The Black Desert IP is Pearl Abyss' open-world action MMORPG franchise with cutting-edge visuals and skill-based combat that redefines the genre. With the most developed character customization system of any game currently on the market, players can break out of the norm and make unique characters that truly represent themselves. Its intuitive controls, beautifully designed world, and extensive lore will excite both newcomers and veterans of MMO games and action RPGs. Pearl Abyss is currently servicing the Black Desert IP, which has gained 50 million players across the world on PC, mobile, and console. 
ABOUT PEARL ABYSS
Established in 2010, Pearl Abyss is a leading developer in the game industry with its renowned MMORPG franchise Black Desert, which is available on PC, mobile, and console. All of Pearl Abyss' games are built on the company's proprietary engine and are renowned for cutting-edge graphics. Pearl Abyss is currently developing Crimson Desert, DokeV, and PLAN 8 using its next-generation game engine and is poised to grow its overseas market. More information about Pearl Abyss is available at: www.pearlabyss.com.
###
MEDIA CONTACTS
TriplePoint on behalf of Pearl Abyss
pearlabyss@triplepointpr.com

Douglass Perry
Head of Public Relations, Pearl Abyss America
douglass.perry@pearlabyss.com