5 years in the making, Snail Games USA brings AAA to Free-to-Play, reveals first video trailer
LOS ANGELES – January 6, 2012
Snail Games USA today unveiled their colossal upcoming MMORPG, Age of Wushu. Representing more than 2000 years of Wuxia tradition, Age of Wushu thrusts players into a personal adventure, in a world where classes and levels no longer matter and where every action is judged harshly by the world around you. Players will learn that nothing is as it seems when the official International Test for Age of Wushu launches soon. Age of Wushu will be published in the UK market under the title Age of Wulin.
Witness the Wuxia legacy in the first official gameplay trailer.
"We are ecstatic to finally be able to announce this title in the USA. After many years of research and development, Age of Wushu has been the number one anticipated online game in China for over two years now and we hope to garner the same excitement in the States," said Shi Hai, CEO and founder of Snail Games.
Prepare to embark on a journey unlike none other, literally. After choosing one of six unique story lines, players become the protagonists of their own individual stories in Age of Wushu. Every action bears a consequence and every NPC has his or her own opinions about each player. Players will also be in control of where and how to hone their skills in Wushu. Players can choose one of eight martial arts schools to train, or invade another school to steal knowledge not offered at their current alma mater. Training can even take place offline by choosing one of 30 offline activities to keep a character progressing in-game as an NPC.
Without the traditional MMO crutch of levels and classes, it is impossible to predict the outcome of a fight. Yes, that means that beggar on the street can be a traveling Grand Master! With over 5,000 equipment upgrades, 32 guild sites, 17 professions and a range of amazing aerial combat, Age of Wushu will puts each player in control of their experience.
Sign up for the latest Age of Wushu news and get the first glimpse of endless gameplay possibilities when the International Testing period begins soon: www.ageofwushu.com
---
About Snail Games USA
Based in Los Angeles, CA, Snail Games USA is the North American division of Snail Games (Suzhou Snail Electronic Co., Ltd.), a leading developer of MMOs and virtual world experiences in China. Snail Games USA is committed to delivering the highest-quality interactive experiences to gamers.
Official Website | Facebook | @snailgames
About Snail Game
Named as one of the "Top 10 Chinese game developers," Snail Games is a leading developer of MMO and interactive online games in China. Founded in October 2000, Snail Game's growing library of titles includes 5 Street, Age of Armor, Voyage Century and Heroes of Gaia. Snail Game's wildly popular titles are currently sold and distributed worldwide.
Official Website
Media contact
Erin Fan, TriplePoint for Snail Games USA
efan@triplepointpr.com
(415) 955-8500
Assets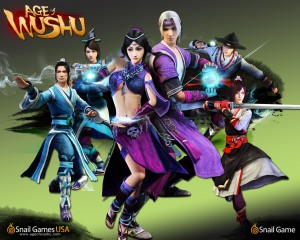 Download the trailer
Download the assets