A new brand to promote French videogame creativity, funded by the French trade association and backed by the French government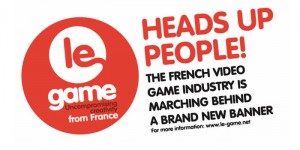 SAN FRANCISCO – March 6, 2012 – In association with Game Connection USA at the 2012 Game Developers Conference in San Francisco, the Syndicat National du Jeu Vidéo (France's videogame trade association) and partners are proud to announce the creation of the new brand to promote the French videogame industry, Le Game, as well as their official motto, "Uncompromising Creativity from France." Backed by the government of France, Le Game will facilitate awareness and trade opportunities for French game developers and publishers on a global scale.

France's videogame sector has cultivated a legacy of more than 40 years of quality game development, from Rayman and Prince of Persia to Ankama's great MMO Dofus and Quantic Dream's Heavy Rain. These titles and many others have established a strong reputation for French talents the world over, but until now, they have all operated independently. Le Game aims to foster a common and global communication plan to highlight the creativity and the diversity of France's developers.
"Today's videogame industry competes on a global scale, and Le Game will allow France to structure its message of uncompromising creativity, quality and talent," said Nicolas Gaume, Chairman of the SNJV, who initiated this project. "All around the nation, this represents a major step forward for our industry."
"Le Game" was launched at the French Ministry of the Economy in Paris on Friday March 2nd 2012, with the support and the backing of the French government, represented during the launch by multiple Ministers and government agencies including Ubifrance.
This new brand was founded to promote the creativity and know-how of French gaming professionals the world over. Small companies form the backbone of the French industry, and Le Game will help them gain visibility on the international level. Last but not least, a series of events to promote the French videogame industry will take place at future gaming events and festivals all around the world. The first rendezvous is today's launch of Le Game at Game Connection USA during the 2012 Game Developers Conference in San Francisco, California.
Media Contact
Julien Villedieu – Managing director, SNJV
+33 6 16 12 05 09
email: dg@snjv.org
Assets