Publishing Agreements Extended to Three Years, Developer Spotlight Unveiled, David Whatley Joins Judging Panel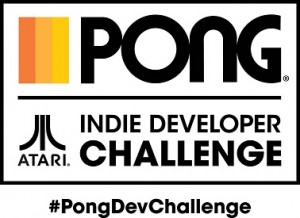 LOS ANGELES – March 27, 2012 – Atari, one of the world's most recognized publishers and developers of interactive entertainment, today announced several updates to its Pong® Indie Developer Challenge, most notably an extension of the rev-share publishing agreements from one to three years for all winners. The new publishing terms are intended to offer developers larger incentives for participation and increase their potential revenue as a result of their winning Pong submission.
Atari also today launched the Developer Spotlight, an online showcase of contest finalists that will give millions of Atari fans a personal look at each developer's profile and help raise awareness for their contest submission. Additionally, Atari revealed that it has added David Whatley of Critical Thought Games to the contest judging panel. Whatley brings years of game development experience with several App Store blockbusters under his belt, including geoDefense and Tiny Heroes. He joins the judging panel alongside Atari founder Nolan Bushnell, Dave Castelnuovo of Bolt Creative and Mike Schramm of TUAW.
"The Pong Indie Developer Challenge is a great opportunity for an indie developer to jumpstart their career by gaining instant recognition for their work and placing high on the App Store charts," said David Whatley. "Pong is a classic IP that audiences far and wide still recognize after 40 years, and the association with that and the Atari brand will no doubt provide a platform for participants to showcase their talent to millions. I'm looking forward to reviewing the developers' efforts and envision a vibrant collection of finalists on the Developer Spotlight."
Entries are now being accepted until April 15, 2012, with up to ten finalists to be selected by the judging panel on June 19, 2012. In addition to featured profiles on the Developer Spotlight, finalists will be awarded rev-share publishing agreements and cash prizes based on final ranking: 1st place will receive $50,000, 2nd place $27,500, 3rd place $15,000, and 4-10th $5,000 each. To view the Developer Spotlight, visit www.atari.com/pongdeveloperchallenge/finalists.
For full details regarding the contest and rules, including how to submit, eligibility, timing of submissions and prizes, please visit: www.atari.com/pongdeveloperchallenge.
For more information about Atari games and the latest news:
– Visit our website: www.atari.com
– Like us on Facebook: www.facebook.com/atari
– Follow us on Twitter: www.twitter.com/atari
– Subscribe to our YouTube Channel: www.youtube.com/atari
About ATARI, SA
Atari (www.atari.com) is a multi-platform, global interactive entertainment and licensing company. The original innovator of video gaming, founded in 1972, Atari owns and/or manages a portfolio of more than 200 games and franchises, including world renowned brands like Asteroids®, Centipede®, Missile Command®, Pong®, Test Drive®, Backyard Sports®, Deer Hunter®, Ghostbusters®, and Rollercoaster Tycoon®. Atari capitalizes on these powerful properties by delivering compelling games online (i.e. browser, Facebook® and digital download), on smartphones and tablets and other connected devices. The Company also develops and distributes interactive entertainment for video game consoles from Microsoft, Nintendo and Sony. As a licensor, Atari extends its brand and franchises into other media, merchandising and publishing categories.
Atari has offices in Los Angeles, New York, Paris, Lyon and London.
© 2012 Atari Interactive, Inc. All rights reserved.
Atari word mark and logo are trademarks owned by Atari Interactive, Inc.
---
Media Contact
John O'Leary, TriplePoint for Atari
joleary@triplepointpr.com
(310) 587-9200