Exceptional Children's Interactive Story Now Available for iPhone, iPad and iPod touch…with No Strings Attached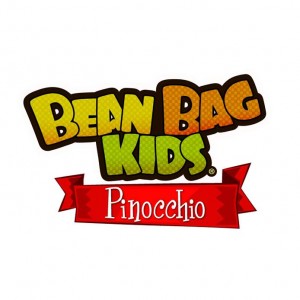 SANTIAGO – March 28, 2012 – The Bean Bag Kids are happy to announce their latest children's tale, Pinocchio, is now available on the App Store. The Bean Bags Kids presents Pinocchio app features a cuddly company of characters, including Geppetto, Pinocchio and the Blue Fairy, who come to life on the high-resolution screen of iPhone and the new iPad.
The app, developed by Mundomono, enables children ages one to six and older to interact with the classic tale of Pinocchio by helping the Bean Bag Kids act out every scene. Kids can read along themselves, or play with the narration turned off so mom and dad can read to them as they watch the colorful scenes unfold.
"We wanted to give children an interactive story to explore while expanding on the delightful characters and environment that made our award-winning Bean Bag Kids presents Little Red Riding Hood app so popular," said Daniel Escudero, project director for Mundomono. "With this app, we were able to deliver a truly engaging storytelling experience on iPhone, iPod touch and the new iPad."
Bean Bag Kids present Pinocchio features include:
Lovable, unique characters built from cloth and fluff
Multi-Touch functionality on each page, from the cuddly actors to hidden items
Spoken narration in English and Spanish
Puzzles that add to the entertainment
Inspiring night lights with relaxing sounds to keep kids company as they fall asleep after story time
Optimized for the Retina display on the new iPad
Support for iCloud, allowing children to pick up where they left off on any iOS device
The Bean Bag Kids presents Pinocchio app is available for $0.99 on the App Store on iPhone, iPad and iPod touch or at www.itunes.com/appstore.
About The Bean Bag Kids
The Bean Bag Kids are a group of friends who love acting and wearing costumes. Join Cocoa, Jack, Vanilla and Little Miss Pea as they stage classic stories and fables in the "Bean Bag Theater." www.thebeanbagkids.com
About Mundomono
Founded in 2003 by Daniel Escudero, Mundomono is a multimedia firm that creates games and apps for the entire family to enjoy. In addition, the team provides graphic design and marketing solutions for companies of all sizes. Mundomono is based in Santiago, Chile. For more information, please visit www.mundomono.com
Official Website | Facebook | YouTube
---
Media Contact
Wendy Russ Beasley, TriplePoint for Mundomono
wbeasley@triplepointpr.com
+1 919.246.5970
---
Assets
Download the press kit here