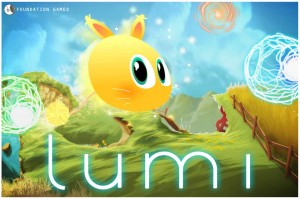 Now Available for Free on the iPad, iPhone and iPod touch
NEW YORK – MARCH 29, 2012 – Foundation Games today announced the release of Lumi Lite for the iPad, iPhone and iPod touch. The completely free game takes place 100 years before the events of the original Lumi. Featuring three new levels, the visually stunning Lumi Lite has players team up with the small but powerful Lumi on a mission to save the universe from encroaching darkness.
"We wanted to set our company apart and not just provide the first few levels for free, but offer a totally new experience," explains Aron Beierschmitt, founder of Foundation Games. "With Lumi Lite, interested gamers can test out the gameplay and story for free, but our devoted fans can also experience un-played levels."
With the universe fallen into darkness, Lumi is the only one with the ability to bring the universe back to light. Use Lumi's powers, based on magnetism and light, to venture through a darkened world in an effort to save your friends and restore peace throughout the lands. Launch Lumi out of cannons to reveal new pathways and advance in levels by manipulating Lumi's magnetism. Lumi will have to face increasingly dangerous enemies who want the universe to remain in the dark; use Lumi's powers to repel the darkness, defeat foes and watch the world return to lush beauty.
Download Lumi Lite for FREE or experience the full game on the iPad ($1.99) or iPhone/iPod touch ($.99).
Assets
Download the press kit here: TriplePoint
dblackwell@triplepointpr.com
512-657-6929