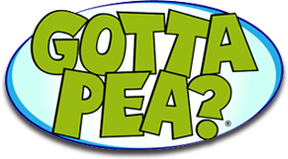 New Publisher to Release First Title in Pea-Theme Line Next Month
HARRISBURG, PA – March 29, 2012 – Developer of family-friendly mobile and social online games, Gotta Pea, LLC, today announced the first iOS title in their pod of upcoming products, Peakour™, a challenging physics-based puzzler for iPhone, iPod Touch and iPad. When it launches on the iOS App Store on April 5th, Peakour™ will arm players with a pile of junk to get from point A to B in one (pea)ce.
Players get their first taste of the Gotta Pea® characters, taking on the role of PeaG as he skillfully maneuvers through 100 perplexing parkour puzzle levels, positioning bits of "junk" with varying shapes and physical attributes to perform cool tic-tacs, back-flips, rolls, cat leaps, grinds, vaults and spring jumps. Collect strategically placed bottle caps as you guide PeaG through the challenging course while avoiding the dangerous Zompea radioactive yuck pool below. Achieve various goals to discover more adventurous worlds, new junk elements and added obstacles like breakaway icicles, hazardous flames, floating bubbles and teleporters. Best of all, compare stats with your friends on the V.I.Pea leaderboards and collect 250 bottle caps to create and share your own puzzle levels in-app using "Peacasso's Creation Station".
View the Peakour™ trailer: http://youtu.be/PqhTjpRi2mo
"Peakour isn't just about the 100 challenging parkour puzzles our designers devised; the level creator lets you make the gameplay experience truly original and personal," said Doug Ian Koozer, Creative Director of Gotta Pea, LLC. "This is something you'll have trouble putting down – or keeping to yourself – and we're thrilled to make Peakour the first game in Gotta Pea's pod."
Koozer is building on a lifetime of art experience to make Gotta Pea the most visually appealing and engaging IP possible. From concept art work for leading international brands like Toyota and Budweiser, to creative direction for his advertising agency and interactive artwork for gallery clients, Doug's work has grabbed the attention of celebrities and national art collectors. He first introduced the Gotta Pea characters at a solo exhibition in 2006 that led to him earning a semi-finalist spot on ABC's American Inventor in 2007. He is applying inspiration from his six-year-old daughter to make Peakour stand out from the App Store crowd.
Beginning with the release of junkyard-themed, parkour-packed Peakour available April 5th, 2012 on the iOS App Store, Gotta Pea is saving the world one pea at a time with a pod-full of other pea characters and games focused on sustainable fun.
If all this excitement has you in the mood, there is only one clear next step…
Peakour launches next week, but in the meantime you can visit the official Gotta Pea website to "Pea Yourself" in the character creator, print "Peaster" greeting cards, meet the whole band of Gotta Peas, and check out their pea-culiar backstory. When Peakour goes live, come back to compare stats on the leaderboard (and pea yourself whenever you like).
Download the press kit: http://triplepointpr.com/dl/gottapea/peakour.zip
Follow Gotta Pea on Twitter: http://www.twitter.com/gottapea
Assets
Link to trailer
Link to press kit
About Gotta Pea®
Founded in 2008, Gotta Pea® is a quirky company out to save the world. With their eye on the environment, a pea-riffic line of mobile and social online games, and Peatown at the center of their universe, Gotta Pea® creates fun products for the whole family. Gotta Pea® games are addictively entertaining and Gotta Pea® characters are a pod-full of personality, building buzz for environmental issues across interactive digital divides.  Meet them all in 2012 at http://www.gottapea.com and help spread "Peas on Earth".
Gotta Pea® is a registered trademark. ©2011 Gotta Pea, LLC
Official Website | Facebook | Twitter
---
Media Contact
Ashley Yang, TriplePoint
ayang@triplepointpr.com
(415) 955-8500