Exciting and challenging puzzle and action-based in-game events await players this April
LOS ANGELES – April 2, 2012 – All this month, crusaders must prepare to face the apocalyptic onslaught of events that T3Fun has planned for Hellgate Global fans. T3Fun has today announced Hellgate's plans for April, which also includes the return of several popular events that previously saw very high participation from players. High stakes rewards are on the table this month for players with the skills to defend their bases and those with a keen sense for solving codes. Fearless hunters willing to set foot in the most treacherous of areas to collect certain items each day will also find themselves handsomely rewarded for their courage and hard work.
Base Defense – Groups of up to five are challenged to complete the base defense mode multiple times. Strategy is every bit as important here as individual strength as waves of demons will attempt to conquer the bases without mercy. Every week, the party that has defended their base the most from the most vicious of Hell's minions will receive great rewards.
Code Rush – Players are advised to keep their eyes peeled and minds sharp as a code with a missing letter or number will be announced randomly in-game. Those who guess the missing alphanumeric character correctly have a chance to win premium items.
Daily Hunt – Prepare for the wildest scavenger hunt in the history of humankind. A set of items will be announced each day and players will be tasked to hunt them in locales brimming with the forces of darkness. Hunters who succeed in scouring them will find their own lucky treasures waiting for them.
Hellgate Global continues its explosive romp through 2012 with events that are sure to please players from all corners of the globe. It's time to smite the abominations wreaking havoc across the land! The fight for man's survival just got more intense!
---
Assets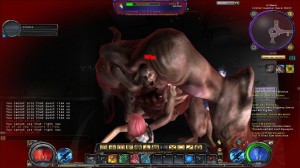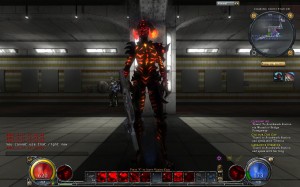 Download the official press kit for Hellgate Global.
---
About Hellgate Global
Hellgate is an online, action RPG that allows you to play in a first-person or third-person perspective. Set 27 years into the future, an ancient prophecy made centuries ago has come true and the gates of hell have opened. Demons have overrun the world of man and roam our lands, destroying, pillaging and killing humans. With the world above ground abandoned, dark and burnt to hellfire, humans are forced into hiding to protect what remains of their race while making plans to take back a world that was once theirs. In the game, mankind escapes to the underground system under the sprawling metropolis of London. Prepare for a struggle for survival in a world that has become hell.
About T3Fun
T3 Entertainment is a major Korean MMO developer and publisher of online games with branches in Korea, Great Britain, China, Taiwan, and Japan. Its name was established in the Asian market with the blockbuster hit 'Audition' and has been quickly expanding since, with over 300 million current users in North and South America, Europe, and Asia. With a large work-force and skill in the development of online games, T3 Entertainment has won a "Best Game of the Year" award on numerous occasions for its various titles. In conjunction with HanbitSoft, the company operates an online games portal consolidating its latest and most popular Free-to-Play MMO titles, found at www.T3Fun.com. For more information about T3 Entertainment, please visit http://t3fun.com/Home/Home.aspx.
About Redbana
Formed in April 2008, Redbana Corporation is the North American publishing arm of Korea's leading videogame developer and publisher, T3 Entertainment. With the considerable support of its parent company, Redbana ultimately aims to take a place among the elite interactive entertainment studios in the North American market by offering the most high-quality and entertaining online games in the world that appeal to a wide audience of consumers. The company has released Audition Online, a rhythm-based online dance game with more than 300 million registered players worldwide, and most recently launched CardMon Hero, a popular Korean card-summoning MMORPG, while continuing development on the fast-paced hack-and-slash MMORPG Mythos. For more information about Redbana, please visit www.redbana.com.
---
Media Contact
Stephanie Palermo, TriplePoint for Redbana
spalermo@triplepointpr.com
(212) 730-9744