Free to play real-time strategy game gains Clan & Global Maps and New Giants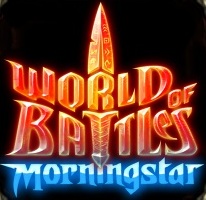 PARIS — April 25, 2012 — Renowned PC developer Frogwares today announced a huge global update for World of Battles: Morningstar,  the free-to-play online real-time strategy game (RTS). The Clan system lets you team up with other players to protect your turf and conquer your neighbors. The Global Map system offers a metagame where players can command their armies in a board-game like setting. A wide range of other new features includes new Giants and equipment, new battlefields, a reworked shop system, plus in-game balancing and tweaks. It's practically a brand new game, blending tabletop war gaming with fast RTS action. To see for yourself, check out World of Battles: Morningstar on Steam today!
The long-awaited, much-requested Clan System is now in place! Team up with friends to make your own Clan with united territory, goals and enemies. As your clan grows, fallen foes must join your ranks or pay the consequences. Raid your enemies' keep for valuable bonuses, with new daily events offering incentives and challenges. Ferocious new Giants include the Dwarven Runesteel giant, a hulking steampunk contraption, Grunge the Swamp Troll, a smelly beast enslaved by the Orcs, and a Dark Elf who rides atop a monstrously mutated Cold One known as Shadow. Other additions include an improved chat system, Facebook integration, new achievements, and tweaks to the gem, unlocks, ratings and Master Unit systems to make World of Battles even more enticing for new players.
Today's World of Battles: Morningstar update includes:
Clan System – It's finally here! Unite with friendly factions to conquer neighboring
Global Map – command your armies from above with this board-game style metagame
Steam Availability – track achievements and manage clans within the familiar Steam client
New Giants & Gear – three new hulking beasts join the roster, plus Giants now have their own gear slots
New Battlefields – test your skills on new tactical  arenas
Game Balancing – tweaks including the gem, ratings and Master Unit systems as well as new achievements and unlockables
Facebook Integration – one-click registration and login is the easiest way for new players to access the game
About World of Battles: Morningstar
World of Battles: Morningstar is a free-to-play real time strategy that centers on balanced play, taking players to a fierce mythical land where they'll form alliances and engaging in fierce single and multiplayer PvP battles. The nine unique races all play differently, from the savage Barbarians to the treacherous Dark Elves. To win, players maneuver their soldiers with charges, counter-charges, formations, flanking and back attacks, with tactical possibilities for solo players and teams of allies. Victories yield both experience and gold – upgrade fearsome master units with a multitude of weapons, armor, war mounts and magical jewelry.
To start playing World of Battle: Morningstar, visit www.worldofbattles.com or download the game on Steam http://store.steampowered.com/app/113900/
To watch the trailer and learn about each race, visit World of Battles on YouTube.
Find details about Clans and the Global Map system.
For a Quick Start Guide, the trailer and screen shots, grab the press kit.
About Frogwares:
Created in 2000, Frogwares is an independent development studio specializing in adventure video games. Thanks to a talented team of 85 artists and programmers, Frogwares release quality games to please adventure fans. The studio has garnered accolades for games set in the Sherlock Holmes universe. The graphic quality, technical innovation and immersive environments are the hallmarks of a Frogwares game. World of Battles is the studio's first foray into the RTS genre.
---
---
Press Contact:
Rich Jones, TriplePoint for Frogwares
rjones@triplepointpr.com
212-730-9744