Dix brings extensive domestic and international consumer market and channel management experience to the Livescribe executive team

OAKLAND, Calif. – June 5, 2012 – Livescribe Inc. (www.livescribe.com), maker of the award-winning Echo™ smartpen, announced today the addition of seasoned sales executive Stephen J. Dix as senior vice president of sales. With more than 25 years of experience in sales and marketing, Stephen will develop and oversee the global sales strategy, lead the overall program implementation and drive strategic expansion into new channels and markets.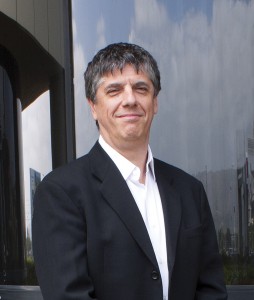 "Stephen's global business expertise, deep understanding of the consumer and education channels, and track record of building high-performance sales organizations, make him well suited for this role," said Gilles Bouchard, CEO of Livescribe. "Livescribe smartpens are available in more than 45 countries around the world. We look to Stephen to deepen our business relationships in these markets, as well as identify other strategic opportunities for growth around the world."
Dix joins Livescribe from Malliet Consulting, where he spent the past nine years serving in a variety of roles, most recently as a partner. While there, Stephen evaluated and analyzed new business opportunities, as well as developed strategies and execution plans to capitalize on them for his clients, including Proxim, Asante Technologies, Infrant and PaperShouts. In the fifteen years prior to Malliet, he successfully oversaw sales and marketing operations at a variety of companies both large and small, like Borland International, Farallon Computing, SysKonnect and NETGEAR. During his seven years at NETGEAR Stephen was directly responsible for profitably growing the business from $0 in 1996 to $300 million in 2003.
"I've spent nearly a decade as a consultant defining business strategies for a wide range of global companies in the technology space, but I built the foundation of my career working internally for technology startups and corporations. I'm excited to get back to my roots and work alongside the innovative and creative team at Livescribe," said Stephen Dix, Livescribe vice president of global sales. "Livescribe's technology is truly unique in the sense that the benefit and value to consumers is universal – regardless of the language the customers speak or the countries in which they reside. This is a large part of why I joined the company and why my job will be especially rewarding."
About Smartpens
Livescribe smartpens digitally capture everything people hear and write. To play back important information, a customer simply taps anywhere on handwritten notes in a Livescribe notebook, a computer or a mobile device. Consumers can easily share a digital copy of their handwritten notes synced with audio as interactive pencasts with email, Evernote®, Microsoft OneNote, Facebook, Google Docs™ and Google Sites™. It's also easy for recipients to experience shared content in the Pencast PDF format. Pencast PDFs use Adobe's ubiquitous, business-standard PDF format – so anyone with the free Adobe Reader® 10 or higher can hear, see and share an interactive Pencast PDF. Click here for more information.
About Livescribe
Located in Oakland, Calif., Livescribe has developed a new low-cost mobile computing platform, which is fundamentally advancing the way people capture, access and share written and spoken information in the paper and digital worlds. The Echo and Pulse smartpens revolutionize the act of writing by recording and linking speech to handwriting, so users never miss a word. For more information, visit Livescribe at www.livescribe.com.
About Anoto Group AB
Anoto is the world leading company behind the unique technology for digital pen and paper, which enables fast and reliable transmission of handwritten text into a digital format. Anoto operates through a global partner network that focuses on user-friendly forms solutions for efficient capture, transmission and storage of data within different business segments, e.g. healthcare, bank and finance, transport and logistics and education. The Anoto Group is headquartered in Lund, Sweden, with offices in Boston and Tokyo. Anoto traded on the Small Cap list of OMX Nordic Exchange in Stockholm under the ticker ANOT. www.anoto.com.
Official Website |  Facebook |  @Livescribe
---
Media Contacts
Jody Farrar
Livescribe
jfarrar@livescribe.com
Lilit Baron
TriplePoint PR
lbaron@triplepointpr.com