FiveOneNine Games Releases its First Politically Inspired Title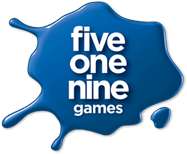 DURHAM, N.C. – June 13, 2012 – FiveOneNine Games today announced the release of its first title for iOS, Political Rampage. Pitting outrageous caricatures of famous American politicians against each other in a fast-paced, "match three" battle to win debates on the campaign trail, Political Rampage is the first incarnation of FiveOneNine's mission to present culturally relevant content in an entertaining and fun format.
"As the presidential race begins heating up, a game of this format could hardly be more appropriate," explained Lloyd Melnick, CEO of FiveOneNine. "Though Political Rampage and all of our subsequent titles are created to entertain, we're confident that injecting the immediate relevancy of political figures and issues will enhance the game's popularity and set FiveOneNine apart from other game companies like Zynga, Wooga, and Tinyco."
Players can choose between two game modes, "Campaign Trail" and "Never-Ending Debate." The first mode sets players off on a series of debates with the candidate of their choosing, facing off against a cast of current, recent and historical political stars in themed debates across the country on the road to the White House. "Never-Ending Debate" tests the player's endurance, challenging them to set a new high score against an infinite stream of opponents.
In Political Rampage, candidates create matches of key issues to battle their opponent and gain the approval of the audience. Occasionally a wildcard issue will appear; if selected as part of the match three, the politician will unleash one of four special powers upon the opponent, providing a hefty bonus and potentially winning the debate.
Political Rampage is a free to play game available now for iPhone, iPod touch and iPad in the App store.
About FiveOneNine Games
FiveOneNine Games is a joint venture of the E.W. Scripps Company (www.scripps.com) and Capitol Broadcasting (www.cbc-raleigh.com). Its mission is to not only entertain players, but also engage and enlighten players with great social games based on cultural, social and politically relevant content. Official Website | Facebook | @fiveoneninegame
---
Media Contact
Zach Fuller
TriplePoint for FiveOneNine
fiveonenine@triplepointpr.com
212.730.9744
Assets