6waves announces new free-to-play space action-strategy mobile game from Harebrained Schemes, the creators of Shadowrun
SAN FRANCISCO – June 18, 2012 – 6waves, a leading global social and mobile game publisher, today announced their upcoming mobile strategy game, Strikefleet Omega, and is putting the recruiting call out to any players willing to defend Humanity against the Hive Queen and her minions. Developed by Harebrained Schemes, the team behind the acclaimed Crimson: Steam Pirates and the original Shadowrun, Strikefleet Omega is a free-to-play game for iPhone, iPad, iPod touch, and Android devices that blends fast-paced alien-eradicating action and tactical real-time strategy. Strikefleet Omega will be available on the iTunes App Store, Google Play, and Amazon on June 21, 2012.
Strikefleet Omega puts players in command of the EEF Retribution and her many squadrons of starfighters. Players must fend off advancing waves of vicious alien enemies by tracing paths for their units, while simultaneously managing mining operations and fleet upgrades. The title is designed with hardcore players in mind, while utilizing the best elements of mobile gaming for an epic space adventure – with nothing less than the fate of humanity at stake.
Strikefleet Omega features:
Hours of gameplay as players defend humanity against relentless alien hordes across 40+ campaign levels
Includes Survival Mode, where players lead Humanity's last stand and combat endless waves of the Hive Queen's forces.  Combat against new enemies not found in the Campaign Mode
A fleet with over a dozen different ships, all with plenty of upgrades available
Clever strategies to take on nearly 20 enemy unit types, from small fighters to massive engines of destruction
Launching and creating paths for squadrons while engineers mine asteroids for precious warp crystals and man fire devastating area-effect artillery salvos
A blend of action and strategy with a simple, intuitive touch screen interface
Play a game designed by gamers, for gamers
About 6waves
6waves is the leading international publisher of gaming applications on the Facebook platform. Through partnerships with top developers, 6waves aims to publish the next generation of social and mobile games to cover every genre, language, and platform. To date, they have over 30 million monthly active players playing 6waves games and applications, a number that continues to grow daily. Some of their most popular games include Ravenwood Fair, Mystery Manor, Spartacus and Resort World.
Official Website | Facebook | @6waves
About Harebrained Schemes
Harebrained Schemes is a small group of wildly talented people, crammed into a closet, making whatever cool thing inspires us next. Lead by serial entrepreneur Jordan Weisman (founder of FASA, Virtual World Entertainment, FASA Interactive, Wizkids, 42 Entertainment, Smith & Tinker, and creator of BattleTech / MechWarrior, Shadowrun, and Crimson Skies), the Harebrained team is a combination of seasoned veterans and fresh talent.  The company's first mobile game, Crimson Steam Pirates, was published last year by Bungie Aerospace and became iPad "App of the Week", made Entertainment Weekly's "MUST List", Metacritic.com's "Best iPhone Games of 2011" list, and was one of Apple's "Benchmark games for 2011".  The team is also working on the Kickstarter success, Shadowrun Returns.
Official Website | Facebook | @webeharebrained
---
Media Contacts
Erin Fan
TriplePoint for 6waves
415-955-8500
efan@triplepointpr.com
Abigail Murphy, 6waves
abigail.murphy@6waves.com
---
Assets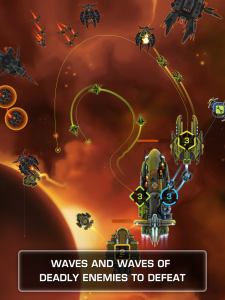 Download the press kit