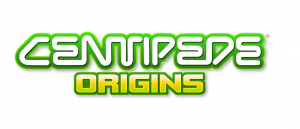 Atari introduces all-new style and mobile gameplay for the retro classic
LOS ANGELES – June 21, 2012 – Atari, one of the world's most recognized publishers and developers of interactive entertainment, today announced the launch of Centipede®: Origins on the App Store and Google Play. Staying true to the classic arcade shooter Centipede, players will help their garden gnome repel an army of centipedes and other bugs to protect their garden at all costs. Available for iPhone, iPad, iPod touch, and a variety of Android smartphones and tablets, Centipede: Origins will be available for $0.99 with in-game purchases, using the following links:
In this evolution of Centipede, players have all-new weapons and gadgets such as grenades and the memorable mushroom men at their disposal to exterminate the insect invaders. Using coins that may be acquired in-game or through purchase, weapons and gadgets can be fully upgraded for the gnomes to wield in the war against the swarm. Use the latest in technology to help the garden gnomes protect their world from centipedes and bugs!
Centipede: Origins features include:
Use three upgradeable weapons (with more to come!), like the Grenades and Boom Shot, that will lay waste to the onslaught of bugs and centipedes
Use three upgradeable gadgets (with more to come!), like the Fly Trap and the Time Warp, to gain the upper hand in your battle to eliminate the insects
Acquire coins through in-game accomplishments or via in-app purchase to upgrade weapons and gadgets and improve your battle capabilities
Play through four different environments that unlock as players progress through the game
Earn achievements, compete on leaderboards and share scores with friends via Twitter and Facebook
A press kit containing a fact sheet and various game-related assets may be downloaded using the following link: http://www.triplepointpr.com/dl/atari/CentipedeOrigins_DPK.zip
For more information about Atari games and the latest news:
About Atari
Atari (www.atari.com) is a multi-platform, global interactive entertainment and licensing company. The original innovator of video gaming, founded in 1972, Atari owns and/or manages a portfolio of more than 200 games and franchises, including world renowned brands like Asteroids®, Centipede®, Missile Command®, Pong®, Test Drive®, Backyard Sports®, Ghostbusters®, and Rollercoaster Tycoon®. Atari capitalizes on these powerful properties by delivering compelling games online (i.e. browser, Facebook® and digital download), on smartphones and tablets and other connected devices. The Company also develops and distributes interactive entertainment for video game consoles from Microsoft, Nintendo and Sony. As a licensor, Atari extends its brand and franchises into other media, merchandising and publishing categories.
Atari has offices in Los Angeles, New York, Paris, Lyon and London.
© 2012 Atari Interactive, Inc. All rights reserved.
Atari word mark and logo are trademarks owned by Atari Interactive, Inc.
Official Website |  Facebook | @Twitter
---
Media Contact
Dustin Blackwell
Senior Account Executive, TriplePoint for Atari
dblackwell@triplepointpr.com
(415) 955-8500