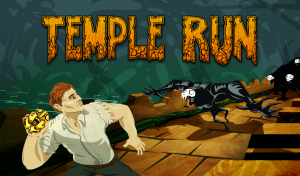 RALEIGH, N.C. – August 2, 2012 – Imangi Studios today announced that Temple Run ® , originally released on the App Store one year ago today, has now been downloaded over 100 million times,  with over 68 million iOS and 32 million Android devices. Free to download, Temple Run challenges players to test their reflexes as they race down ancient temple walls and along sheer cliffs to collect coins, all while jumping, running and sliding to escape the grasps of the temple dwellers and avoiding obstacles.
"We never imagined that the game we were making and loved would be so well received around the world," said Keith Shepherd, co-founder of Imangi Studios. "The last year has been incredible for us, and we are grateful to fans of the game. We hope to be able to provide them with more entertainment from the brand for years to come."
Over 10 billion sessions of Temple Run have been played since August 2011, equaling a combined time of 54,000 years spent playing the game. Based on the number of downloads in the U.S., 13 percent of the U.S. population has downloaded Temple Run. Click here for an infographic, which takes a closer look at one year of statistics for the game.
Imangi Studios, in conjunction with its licensing agency Dimensional Branding Group (DBG), announced several licensing partnerships in 2012 for Temple Run, including apparel with JEM Sportswear, digital comics exploring the back story of the game with Ape Entertainment, card and board games with Spin Master, arcade machines with Coastal Amusements and sleepwear with Komar.
"100 Million downloads is a significant milestone for any brand in the digital space, and is a reflection of the mass appeal of Temple Run and the deep connection fans have with this unique game," said John Leonhardt, president of DBG.
In June 2012, Imangi and Disney Pixar launched Temple Run: Brave, bringing together the world of Disney Pixar's animated fantasy adventure, "Brave," and Temple Run. The game shot to the #1 slot in the App Store, and has been a top 10 App since its release.
To celebrate the one-year anniversary of the game, and the 100 million downloads milestone, all mobile titles released prior to Temple Run by Imangi Studios will be available for free to download for a limited time. Additionally, a new iOS update is now available for Temple Run, which adds retina graphics for the iPad, more achievements, and the ability to enable or disable specific powerups.
Temple Run is currently available for FREE in the App Store, Google Play and Amazon.
Temple Run is a registered trademark of Imangi Studios, LLC. All Rights Reserved.
About Imangi Studios
Imangi Studios was founded by husband and wife team Keith Shepard and Natalia Luckyanova in 2008. With the addition of artist Kiril Tchangov in 2009, the three-person studio has developed mega-hit Temple Run, which has been downloaded by 13% of the entire United States population since its release in August 2011. Based in Washington, D.C., the self-funded, fully independent studio previously developed Harbor Master, geoSpark, Hippo High Dive and Max Adventure for iOS.
Official Website | Facebook | @TempleRun

---
Assets
Download the press kit here.
---
Media Contact
TriplePoint for Imangi Studios
imangi@triplepointpr.com
212-730-9744