Sustainable Living App Enables Individuals, Communities and Organizations to Save Money, Conserve Energy and Reduce Waste
RALEIGH, N.C. – October 1, 2012 – JouleBug, the mobile app that makes sustainable living simple, fun and social, today announced the availability of JouleBug 2.0, the latest version of the application that enables individuals to track their daily "green" activities and save up to $200 a year in energy costs. Through a system with points and badges, JouleBug enables users to compete with friends, family and others to save money, conserve energy and reduce waste. JouleBug 2.0 can be downloaded for free on the app store and can be seen in booth #8 at this year's SxSW Eco conference and tradeshow, taking place in Austin, Texas October 3–5, 2012.
In addition to the new version, JouleBug also announced their JouleBug Communities subscription program, which extends the benefits of JouleBug beyond individuals to municipalities, businesses and universities. With JouleBug Communities, entire cities can track and understand the effectiveness of their sustainable living efforts. For example, Raleigh, N.C., which has recently implemented a beta version of JouleBug Communities, has already seen benefits with this program.
"In the past, I had to rely on education and outreach programs to effect change within the community. While still necessary, these efforts are difficult to measure in terms of quantifiable impact on our city. JouleBug changes all of that," said Paula Thomas, Raleigh's sustainability manager. "Not only does JouleBug help our citizens save money and track their own behavior, it also gives me the means to actually see the community respond in real time with hard numbers regarding sustainable activities. It shows me which programs are working and where we need to improve. This intelligence is invaluable and, in my opinion, it's what's been missing from many municipal sustainability programs."
JouleBug for Individuals, Friends and Family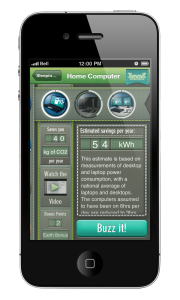 Available on iOS as a free download, JouleBug saves real money by tracking individuals' daily "green" activities and encouraging positive habits. Users start by earning achievements, like "Green Arrow" for recycling or "Hug a Mug" for bringing a reusable mug at the local coffee shop. The achievements gradually become more difficult—and more rewarding—the more the users interact with JouleBug. An intuitive "Genius" engine delivers more relevant achievements based on location, time of day and activities as it learns from users over time, and works with users' social circles, so friends can compete over the same badges.
JouleBug includes points, badges and other game mechanics that enable users to compete with friends and neighbors for fun via Facebook and Twitter, while also allowing them to integrate household utility bills to give a realistic sense of cost savings.
JouleBug helps identify activities that impact the environment, then provides incentives and advice on how to easily save money and reduce carbon footprint. JouleBug will soon deliver a consolidated statement showing energy use and cost savings that makes suggestions about what to do next to save even more. With no lengthy sign-up process, users can immediately get started saving money and making a positive impact on the planet.
JouleBug Communities for Corporations, Municipalities, Universities and More
In addition to the app itself, JouleBug provides a subscription service for businesses, cities and universities that brings the money-saving benefits of the app to the organizational level. The subscription service also delivers insight on which activities are generating the most savings; this intelligence is critical for refining and improving conservation efforts.
JouleBug Communities is a dramatic departure from current methods of educating groups and altering organizational behavior for sustainable living. This approach utilizes current technology to more effectively engage a broad audience, encourage group participation, and also deliver detailed results of their energy-saving activities.
JouleBug Communities is an ideal solution for organizations of all kinds, including:
Businesses—Companies large and small generate massive amounts of waste in both energy
and materials; that means wasted budget. JouleBug Communities gives businesses a tool to enlist their employees in a fun and simple way to streamline the costs of doing business.
Higher Education—Universities in the U.S. currently spend $2B on energy costs, but JouleBug is an easy way for these organizations to cut both consumption and spending. The data generated from on-campus use is tailored to help the administration refine their energy policies to save more and use less.
Municipalities—Already in beta with the most sustainable mid-sized city in the U.S., JouleBug turns sustainable living from a "shot in the dark" marketing campaign into a two-way conversation between city government and constituents. JouleBug Communities can help entire cities reduce their own energy consumption and the burden on their electrical infrastructure, while also reducing the volume of waste headed to their landfills.
"Most people want to help the environment, but for many, keeping track of how they can help is a big challenge. With JouleBug, we're aiming to make this process simple, social and fun for everyone," said Grant Williard, JouleBug's founder and president. "Beyond helping the environment, JouleBug saves real money for individuals, families and communities and that's never a bad thing."
To get JouleBug for yourself or your team, visit the app store.
JouleBug will also be demonstrated in booth #8 at this year's SXSW Eco conference and tradeshow taking place in Austin, Texas October 3-5, 2012. Interested parties can also see JouleBug showcased on October 5, 2012 at the i2i Awards during the conference.
JouleBug Communities will be available later this year in Q4 2012.
About JouleBug
JouleBug is a playful mobile app that encourages users to improve their sustainability habits at home, work, and play. By competing with their Facebook and Twitter friends to earn badges and pins, users can lower energy bills, reduce waste, and make a big impact on the planet. Created by a team of developers, designers, sustainability engineers and writers, JouleBug is led by Grant Williard, who bootstrapped
 and sold his former startup to Adobe. JouleBug is headquartered in Raleigh, NC. Learn more at www.joulebug.com.
Official Website |  Facebook |  @JouleBug
---
Media Contacts
TriplePoint for JouleBug
joulebug@triplepointpr.com
(415) 955-8500
Matt Morain, JouleBug
matt.morain@joulebug.com
(919) 886-6836
---
Assets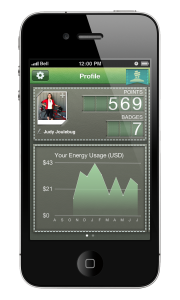 Additional JouleBug assets may be downloaded here.