Addictive New Multiplayer Match-3 Game from Aspyr Media Coming Next Week
AUSTIN, Texas – Nov. 1, 2012 – Aspyr Media today announced Sushi Mushi, a new multiplayer match-3 puzzle game available November 8 for all iOS devices. A fresh addition to the genre, Sushi Mushi will task players with creating sushi rolls to feed their hungry monsters. With loveable characters, smooth animations, and catchy music, Sushi Mushi will take fans of the puzzle genres by sushi storm.
In Sushi Mushi, players will pick a monster and play against others to create sushi rolls, feeding their character as many rolls as possible. Gamers will create rolls by matching sushi bites according to color or shape. Advanced moves will utilize offensive and defensive rolls for bonuses, helping gain even higher scores. The player who scores the most points from their sushi roll creations by the end of three rounds will be crowned the victor.
Sushi Mushi utilizes asynchronous multiplayer and will feature Facebook Connect, letting players battle against friends and family whenever they want. Gamers can also play solo in the single-player snack mode to hone their culinary skills and achieve new Challenges. As players progress with their monster, they will gain new belt levels and collect Bento Buddies, furthering their massive sushi monster success.
Aspyr media has released a short preview trailer for the game. Sharpen your claws and check it out here: http://www.youtube.com/watch?v=J04nSdT4taw&feature=youtu.be.
Sushi Mushi features:
Fast-Paced gameplay – Use touch-and-drag motion to quickly match sushi bites
Deep strategy – Utilize defensive and offensive combos along with in-game Specials and Surprises to rack up huge scores
Single player snack mode – Practice combos and sushi creation to hone your culinary skills
Asynchronous multiplayer – Take turns competing with friends and play at your convenience
10 loveable monsters – Pick distinct looking sushi monsters, including Rollzilla, Omega-3, and the masterful Wasabi Demon
Monster belt level progression – Reach Black Belt level for big dojo respect
Unlimited Challenges – Earn coins and level up by completing challenges
Fortune Cookie gifting – Help friends win coins and upgrade their Monsters
Connect and Challenge – Facebook Connect integration and Game Center enable friendly competition among friends
Assets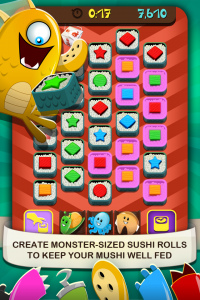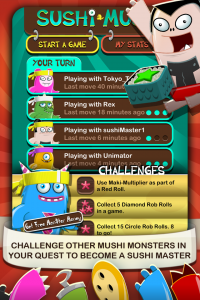 Check out the new preview trailer for Sushi Mushi at the following link: http://www.youtube.com/watch?v=J04nSdT4taw&feature=youtu.be
Download the press kit here.
---
About Aspyr Media 
Aspyr Media, Inc. is the leading publisher of Mac® and iOS games, bringing blockbuster gaming franchises including Call of Duty®, Sid Meier's Civilization®, Star Wars®, and DOOM® to Mac computers around the world. Headquartered in Austin, TX, Aspyr develops, markets and sells games for the Mac which are delivered through physical retail and digital download services. More information about Aspyr and its games may be found at www.aspyr.com . All marks and trademarks are the property of their respective owners.
Official Website | Facebook | Twitter
---
Media Contact
Phillip Klugman, TriplePoint for Aspyr Media
pklugman@triplepointpr.com
(415) 955-8500