Test Your Touchscreen Aim in Free Wild West Gunslinging
LOS ANGELES – Nov. 1, 2012 – Today Atari, one of the world's most recognized publishers and producers of interactive entertainment, has released Atari Outlaw™ for iPhone, iPad and iPod touch. Atari Outlaw, a classic franchise from the Atari library, now rides again as a casual shooter, combining the Western themes of the original hit with colorful hand-drawn graphics, an expanded arsenal of weapons and smooth touchscreen controls. Atari Outlaw is available as a free download on the App Store at http://itunes.apple.com/app/id553864821.
Developed by Flying Wisdom Studios, the Wild West shooter puts players in the boots of a well-armed bounty hunter, out to become the quickest draw in the West. By gunning down banditos, miners, and other yellow-bellied varmints, players will collect in-game silver and gold, which can be used to buy new weapons, upgrade their firearms, and restock on ammunition. Players can gun for the top spot on the leaderboards and prove to their friends just who among them is the toughest gunslinger in the saloon.
"Atari's 40th Anniversary is the perfect time to release a fresh version of Atari Outlaw for mobile devices," said Jim Wilson, CEO of Atari. "Like last month's Super Bunny Breakout™, Atari Outlaw remains true to the skill-based arcade spirit of the original, fully updated to harness modern features and touchscreen capabilities."
Atari Outlaw's features include:
Disarm your opponents, kill waves of enemies and blow up whatever gets in your way.
Multiple Wild West locations from the High Sierra to Fort Beaver.
Collect a variety of cool weapons from Buzz Sawyers to Tesla guns that shoot lightning bolts.
Upgrade your weapons to increase power, accuracy, fire rate and more.
Game Center integration to show off your skills with achievements and leaderboards.
For more information about Atari Outlaw, visit www.atari.com or visit Facebook at www.facebook.com/atari.
For more information about Atari games and the latest news:
About Atari, SA
Atari (www.atari.com) is a multi-platform, global interactive entertainment and licensing company.   The original innovator of video gaming, founded in 1972, Atari owns and/or manages a portfolio of more than 200 games and franchises, including world renowned brands like Asteroids®, Centipede®, Missile Command®, Pong®, Test Drive®, Backyard Sports®, and Rollercoaster Tycoon®.  Atari capitalizes on these powerful properties by delivering compelling games online (i.e. browser, Facebook® and digital download), on smartphones and tablets and other connected devices. The Company also develops and distributes interactive entertainment for video game consoles from Microsoft, Nintendo and Sony.  As a licensor, Atari extends its brand and franchises into other media, merchandising and publishing categories.
Atari has offices in Los Angeles, San Francisco, New York, Paris, and Lyon.
© 2012 Atari Interactive, Inc. All rights reserved.
Atari word mark and logo are trademarks owned by Atari Interactive, Inc.
Media Contact
TriplePoint for Atari
ataripr@triplepointpr.com
Assets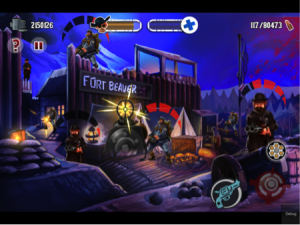 Watch the trailer on YouTube