LOS ANGELES – Nov. 14, 2012 – Atari, one of the world's most recognized publishers and producers of interactive entertainment, announced today that Warlords®, a remake of the classic title for the Atari 2600, is now available on Xbox LIVE® Arcade for the Xbox 360® video game and entertainment system from Microsoft for 800 Microsoft Points.
For more information, or to purchase Warlords on Xbox LIVE Arcade for Xbox 360, please visit: http://www.atari.com/warlords. Through a previous release, Warlords is also available on PlayStation®Network.
A multiplayer, arcade-action game, Warlords pits players against up to three opponents, human or computer-controlled, in a struggle to defend their castle walls and eliminate rivals to be the last warlord standing. Players use a magic shield to block fireballs shot at their walls, aiming to deflect the fiery missiles at their enemies' strongholds. Warlords will need quick reflexes to defend themselves, but that's not all; Warlords also challenges gamers' strategic skills, as they command groups of minions that battle against other troops to attack enemy walls or capture control points and power-ups.
KEY FEATURES:
Fast-paced action: Use quick thinking and reflexes to defend your walls and demolish the castles of your enemies. Outlast them all to become the ultimate warlord!
Protect the stronghold:  Rotate a mighty shield around the perimeter of your stronghold, deflecting fireballs away from your castle walls and at your opponents!
Command minions:  Send your loyal posse of Snoots to capture control points, gather power-ups, attack enemies, and bolster your own defenses.
Arcade-style multiplayer: Select a faction and engage in co-op siege mode, 2v2, or classic free-for-all battles for up to four human or computer-controlled players.
For more information on Warlords, please visit www.atari.com or www.atari.com/warlords
For more information about Atari games and the latest news:
About Atari, SA
Atari (www.atari.com) is a multi-platform, global interactive entertainment and licensing company.   The original innovator of video gaming, founded in 1972, Atari owns and/or manages a portfolio of more than 200 games and franchises, including world renowned brands like Asteroids®, Centipede®, Missile Command®, Pong®, Test Drive®, Backyard Sports®, and Rollercoaster Tycoon®.  Atari capitalizes on these powerful properties by delivering compelling games online (i.e. browser, Facebook® and digital download), on smartphones and tablets and other connected devices. The Company also develops and distributes interactive entertainment for video game consoles from Microsoft, Nintendo and Sony.  As a licensor, Atari extends its brand and franchises into other media, merchandising and publishing categories.
Atari has offices in Los Angeles, San Francisco, New York, Paris, and Lyon.
© 2012 Atari Interactive, Inc. All rights reserved.
Atari word mark and logo are trademarks owned by Atari Interactive, Inc.
Official website | Facebook | @Atari
---
Media Contact
John O'Leary, TriplePoint for Atari
joleary@triplepointpr.com
(212) 730-9744
Assets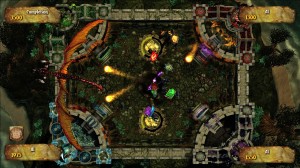 Watch the trailer on YouTube
Download the press kit