Brain Candy re-releases real-time, simultaneous multiplayer game with player perks
PARIS – Nov. 13, 2012 – Brain Candy, the high fructose independent game developer of 10 members from France, proudly announces the re-launch of their simultaneous turn based strategy game, Fray, titled Fray: Reloaded Edition, on Steam. Not only does Fray: Reloaded Edition include RAM optimization, better server stability, and punishment for rage quitters, existing players will be rewarded with a free game key to share with a friend. Existing and new players will also receive a free soundtrack as a thank you from Brain Candy.
After the release of Fray on Steam in June 2012, Brain Candy has been working hard with the help of player feedback to make sure their very first game is perfected! Today, Brain Candy is proud to announce the following improvements featured in Fray: Reloaded Edition.
Solo training maps
Redesigned user interface
Improved graphics and SFX
Weapons and class rebalancing
Leader board with ELO scoring system
More game creation options
All rage quitters must from now on report to their respective mega-corporation heads to be immediately reprimanded!
See the new trailer: http://www.youtube.com/watch?v=9qPXBeYUIwg
Get in on the action for $19.99 on Steam: http://store.steampowered.com/app/210490/
For more information:
About Fray
Fray combines the strategic thinking of real-time strategy games with the fast-paced action of shooters to create a new and unique hybrid game unlike any other. In Fray, players pledge allegiance to one of three mega-corporations and control a squad of four characters to face off against other corporations' squads. Fights happen in turns and are comprised of a definition phase and a resolution phase. Players give each member of their squad orders during the definition phase: shoot, move, deploy equipment, use personal bonuses or powerful team bonuses and then watch the results of their actions during the resolution phase: seeing how opponents strike back and who best anticipated and trapped the other teams. In Fray, game over spells death in real life! For more information, check out Fray's official website: www.fray-game.com
About Brain Candy
Brain Candy is an independent, sugarcoated, fun-loving, sweet and chewy game development studio from Paris, France. Brain Candy specializes in serious, hardcore games developed with the humorous enthusiasm of its team. They are currently creating their first game for Windows and Mac using the Unity Engine.
Official Website | Facebook | @BrainCandyGames
---
Media Contact
Sam Dalsimer, TriplePoint
sam@triplepointpr.com
(212) 730-9744
Assets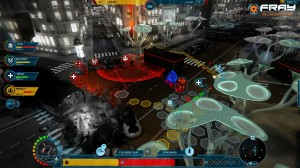 Watch the new trailer on YouTube
Download the trailer
Download the press kit with new screenshots