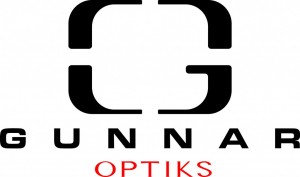 Suite of patents protects optical lens technology tailored for digital screen use 
SAN DIEGO, Calif. – Jan. 9, 2013 –
GUNNAR Optiks, the world's leading manufacturer of computer eyewear, today announced that it has been awarded broad patent coverage on the company's lens technology and design. GUNNAR's 20/20 and prescription computer eyewear, optimized for use while viewing digital screens, combines a proprietary lens material in an advanced geometry, finished with custom tuned lens tints and coatings.
"Aggressively protecting our technological innovations is an integral part of our business," said Joe Croft, co-founder of GUNNAR. "GUNNAR Optiks computer eyewear addresses a problem affecting more than 120M Americans today. Securing broad-based patents reinforces GUNNAR's leadership position in the category that we created, and ensures that affected consumers can receive a high-quality eyewear solution that protects their vision."
US Patent No. 8,342,681 was awarded to GUNNAR Optiks on January 1, 2013, and applies to the following areas of innovation:
Computer eyewear designed to filter spectral peaks commonly found in fluorescent lighting and computer backlights.
Computer eyewear with a wrap-around design designed to protect the eye from air currents and trap in evaporated moisture.
Computer eyewear with decentered optics to provide distortion-free viewing.
Additional patent claims, regarding the filtration of HEV (High Energy Visible) light, have been allowed and set to issue in the coming months.
GUNNAR Optiks computer eyewear combines form and function with style to reduce eye fatigue and stress, commonly associated with Computer Vision Syndrome and Digital Eye Fatigue. GUNNAR Optiks i-AMP lens technology gives computer users better performance and a visual advantage in the short term while reducing wear and tear on eyes in the long term. Working with the eye, optic nerve and brain to enhance the viewing experience, this patented technology allows digital users to see more clearly, absorb and process more than with the naked eye.
All styles are available for purchase on GUNNAR's online store, with select styles available from major retailers worldwide including; Best Buy, Amazon, Zappo's and Newegg. To learn more about GUNNAR Optiks and to find a retail location, please visit:  http://www.gunnars.com
Download the press kit here (14MB).
About GUNNAR Optiks
Founded in 2005, GUNNAR Optiks, LLC designs and engineers computer and gaming eyewear to protect and enhance vision using revolutionary lens technology. GUNNAR introduced the Technology Eyewear category in 2008 and pioneered ergonomically correct eyewear to reduce eye strain and fatigue associated with long-term viewing of digital screens. GUNNAR also offers non-polarized outdoor eyewear engineered for digital viewing in bright light and outdoor applications.
GUNNAR is a privately held company headquartered in Carlsbad, California. Investors include Peter Thiel, 50 Cent, Carl Zeiss Vision and Monster, Inc., among others. For more information, visit www.gunnars.com.
Media Contact
Samantha Qualls, TriplePoint
samantha@triplepointpr.com
(212) 730-9744