Version 1.2 hits App Store today with added search and privacy features
BOSTON – March 21, 2013 – Digisocial, Inc. today announced its social sharing app for iOS has been downloaded over 2 million times, with over half of the downloads coming from the US, UK, Mexico, and France. To celebrate this milestone, Digisocial has released an update with version 1.2 which includes a new location-specific search feature as well as added privacy features. Digisocial version 1.2 is now available for free on the App Store: https://itunes.apple.com/us/app/digisocial/id529473443?mt=8.
Version 1.2 introduces the ability for users to not just explore posts but also filter searches by location—city, region, and country—so users may find out what is trending at home and in their area. To improve privacy and allow users tighter control over who views their content, version 1.2 introduces a "Fans Only" option that allows only followers to view a post. Users can also choose to set follower requests to an approve/deny system for even more control.
Built to combine the capabilities of smartphones and content into one app, Digisocial is an always ad-free network that harnesses the best elements of social tools with the power of voice. The app's audio capabilities allow users to share "VoicePhotos"—photos with voice captions attached—as well as voice comments and chat messages, adding tone to text and an extra layer of expression. Content can be shared publicly on the Digisocial network, Facebook and Twitter, or privately with specific users and custom groups.
Key features include:
VoicePhotos and Audio Commenting: Hold a touch-screen button to instantly record and upload high-definition audio to images and text, providing a new way to share when simple texting and instant messaging don't cut it. Version 1.2 allows users to auto-play all voice comments on a post.
Enhanced privacy features: In version 1.2, users can choose to share posts with followers only as well as friends only or publicly. Users are also given the option to approve or deny a user who wishes to follow them. The Block feature has also been improved and posts on the home feed can be hidden.
100% free and ad-free: All features are accessible for no charge, and users will only see real content from real people; Digisocial does not support ads or promoted posts. The app only tracks the data users elect to provide, and Digisocial will never sell users' content or data to third parties.
Customizable chat groups: Create and participate in custom groups that scale from a few individuals to thousands of people around the world, sharing VoicePhotos and chatting about favorite subjects.
High quality technical back-end:  VoicePhotos are played back virtually and instantly in HD audio. Additionally, a multi-layer server set up ensures minimal downtime when traffic is high. In version 1.2, voice download speed has been enhanced.
Download Digisocial from the App Store for free: https://itunes.apple.com/us/app/digisocial/id529473443?mt=8
For more information:
About Digisocial, Inc.                         
Founded in 2011, Digisocial, Inc. is a privately owned and operated corporation with global operations based in Boston. The company, created to develop new ways for consumers to share and connect, has released an audio-enabled social sharing app for iOS which allows users to create and share VoicePhotos — images attached to high definition audio recordings. With VoicePhotos and other features that combine the best capabilities of modern devices with popular social content, Digisocial delivers a consistent but flexible social experience.
Official Website | Facebook | @DigisocialApp
---
Media Contact
Erin Fan, TriplePoint
efan@triplepointpr.com
(415) 955-8500
Assets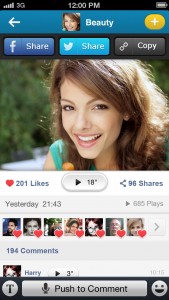 Download the press kit.