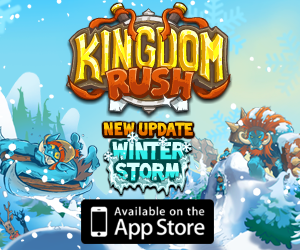 App of the Year-winning tower defense game gets new levels, enemies, heroes and a (frozen solid) HARD mode
NEW YORK – March 21, 2013 – Publisher Armor Games and developer Ironhide Game Studios today announced the "Winter Storm" update for iOS tower defense classic Kingdom Rush, available for download now on the iTunes App Store. Warlord Ulguk-Kai has managed to unite his bumbling troll army into battle against the peaceful citizens of Linirea. Players must defend the land on brand-new wintry stages, facing troll enemies alongside Viking heroes. While the new content is challenging, it's a breeze compared to the new Hard Mode… consider this your final warning! With an overall score of 89 on Metacritic and countless accolades from across the gaming realm, this casual tower defender truly belongs on every iDevice. The Kingdom Rush Winter Storm update is free on iPhone and iPad for all existing players. Download the Winter Storm update today! (iPhone link, iPad link)
New in Kingdom Rush Winter Storm Update
Two Trolling Stages – Invade the Ha'Kraj trolls' home turf and bring them to their knees
Terrifying Enemies – Test your skills against three new mighty foes and their pesky surprise attacks
Malicious Hard Mode – Only the best strategists dare try this new mode… even tower defense veterans may not live to tell the tale
Viking Heroes Rise – Shred enemies as Ingvar the Viking werebear and freeze troll souls with Elora's Wintersong magic
Sweet, Sweet Victory – Conquer five new achievements for outlasting the Winter Storm's chilling troll warriors
About Kingdom Rush
The Standard for Tower Defense – Simple enough for newbies, while tower defense fans will feel right at home
Lush Cartoon Visuals – Retina graphics and uncluttered style keeps troll-killing at the forefront
One Helluva Fight – Lengthy campaign is backed by Heroic and Iron Challenges for massive replayability
Terrifying Towers – Sorcerer Mages roast their oppressors; don't even ask about the Axe-Wielding Barbarian…
Endless Enemies – Flying gargoyles, massive yetis, vicious horned marauders and now terrifying trolls will hammer your defenses
Critical praise for Kingdom Rush: IGN Editor's Choice, Slide To Play Must Have, 148 Apps Editor's Choice, Jay is Games Game of the Year, Pocket Gamer Gold Award, Touch Arcade 4.5/5, CNET Best iPad Games
Developer accolades include: Best Strategy Game & Community Choice Award: Flash Gaming Summit Mochi Awards 2012. Business of the Year: Korean Games Conference 2012.
Download Kingdom Rush on the App Store for iPhone, iPad, and iPod touch. (iPhone link, iPad link)
Learn more about the game at KingdomRush.com and watch the trailer on YouTube.
About Armor Games
Armor Games is the leading developer of casual Flash and iPhone games. Based in Irvine, California, the company was founded in 2005 by Daniel McNeely, and has developed and released such hit games as Crush the Castle, Kingdom Rush, Sonny, IndestructoTank!, Shift, and Upgrade Complete!
For more details, visit www.armorgames.com
---
Media Contact
Diana Smith, TriplePoint for Armor Games
dsmith@triplepointpr.com
(415) 955-8500
---
Assets
Download the press kit here.