Leading event-planning media company deploys mobile conference technology to engage attendees, surface leads, and gather insight
NEW YORK & SAN FRANCISCO – April 8, 2013 – BizBash and DoubleDutch, two leaders in event-planning and event technology, today announced a partnership to power this year's BizBash IdeaFest conferences in South Florida and Los Angeles with DoubleDutch's industry-leading social event app, DoubleDutch Events. BizBash (http://www.bizbash.com), the premier source for event-planning news, ideas, and resources online, in print, and face-to-face, brought on DoubleDutch (http://doubledutch.me) to provide customizable tools that drive social engagement among attendees and exhibitors, reveal participant preferences, and generate actionable leads and insights based on real-time in-app behavioral data. Now, BizBash joins the ranks of UBM, Cisco, Eloqua, Roche and other leading international companies as a customer of DoubleDutch, the leading provider of mobile applications for enterprise events and conferences.
"DoubleDutch's mobile technology revolutionizes the way organizers and attendees socialize, consume information, and market themselves — which is exactly the kind of cutting-edge trends we want to showcase at IdeaFest," said David Adler, CEO and Founder of BizBash.
"BizBash IdeaFest attendees are passionate event professionals who know the industry very well," said Lawrence Coburn, CEO, DoubleDutch. "DoubleDutch is proud to bring the most advanced mobile event technology to such an event-savvy crowd, and to help shape the future of tech in the events industry."
DoubleDutch and BizBash are at the forefront of an exploding market, with North American brands expected to report a 7.8 percent spending increase in event and experiential marketing in 2012 – more than double the growth-rate of the year prior.  This trend is driven by an intensifying focus on interactive attendee experiences and a desire to drive sales and awareness, which the DoubleDutch-Bizbash partnership is primed to deliver to IdeaFest attendees and exhibitors.
BizBash's IdeaFest conferences in South Florida on April 10, 2013 and in LA on June 19, 2013 will bring together the top creative minds in the events industry to share best practices for meetings and conferences of all types. With the dedicated BizBash apps developed by DoubleDutch, thousands of attendees at this year's events can check-in to sessions during the Event Innovation Forum, like and comment on speakers from the Event Leadership Institute Workshop Series, compete for the top spot on the app leaderboard, and interact digitally with a wealth of exhibitors.
The DoubleDutch platform embraces a truly mobile-first approach, taking event apps beyond a simple list of panels or sessions. BizBash will use the app to turn that content into a seamlessly social experience, allowing attendees to check-in to sessions, bookmark favorite exhibitors, and meet other attendees in an organic and relevant way. With the IdeaFest app's uniquely crafted layout, social functionality, and pre-conference installations, DoubleDutch puts every detail about the show just a tap or swipe away. As the events progress, BizBash can plan push notifications, promoted posts and more to unlock additional revenue from sponsors, and the organizer can track behavioral data to extract the most engaged business leads.
The BizBash Ideafest apps for South Florida and LA are available on Android, iOS and HTML5. Attendees, and anyone else interested in following these events as they happen, can download their preferred version of the app here: http://ddut.ch/bizbash
For more information on BizBash Florida, visit www.bizbash.com/bizbash-events/idea-fest/2013/florida/.
For more information on BizBash Los Angeles, visit www.bizbash.com/bizbash-events/idea-fest/2013/los-angeles/.
To learn more about how DoubleDutch can power your next event, visitwww.doubledutch.me.
---
About BizBash
BizBash is an innovator and resource hub for the event and meeting industry with its Web site, magazines, and trade shows. Event organizers responsible for events such as White House state dinners and the Oscars, as well as conferences, trade shows, fund-raisers, and more use BizBash products regularly for ideas and best practices that can be implemented at their own events. Follow us at bizbash.com, @BizBash_News on Twitter, or facebook.com/bizbash.
Official website| Facebook | @BizBash_News

About DoubleDutch
DoubleDutch offers the most innovative, engaging mobile conference application in the events industry. DoubleDutch Events is designed for companies to thrill event attendees, surface leads, and host engaging, data-driven events with advanced mobile technology. Companies like Cisco, Roche, Wells Fargo, Lowe's, and Bristol-Myers Squibb are using DoubleDutch at meetings and conferences worldwide. Get a branded mobile app to engage conference attendees today. Learn more at http://doubledutch.me/ or follow us on Twitter @doubledutch.
Official website| Facebook | @DoubleDutch
---
Assets
Download DoubleDutch's full press kit here and view BizBash's media kit here.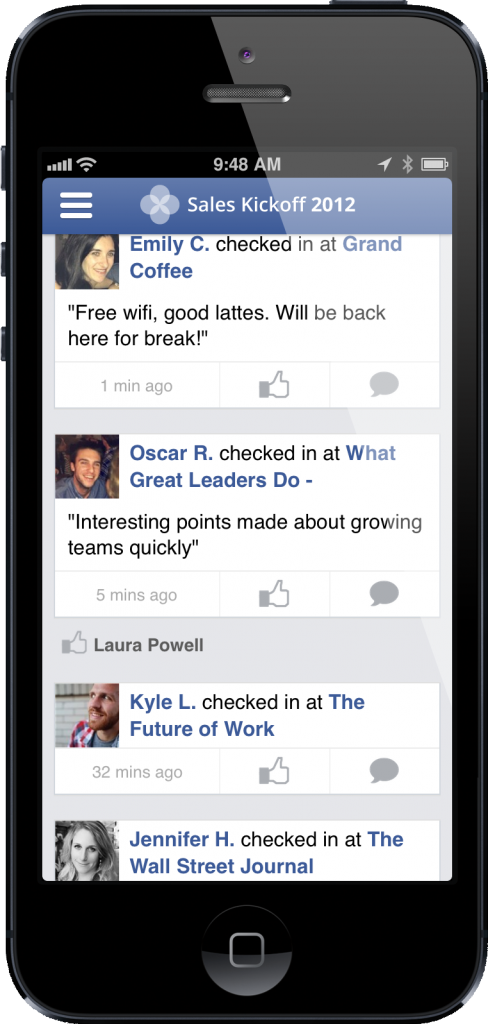 Media Contact
TriplePoint PR for DoubleDutch
doubledutch@triplepointpr.com
(415) 955-8500
DoubleDutch
Jen Hawkins
jen@doubledutch.me
(415) 449-5744