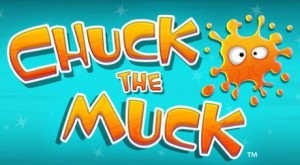 Chuck the Muck is the new physics-based adventure game from the creators of Critter Escape
ATLANTA – May 9, 2013 – Indie developer Kiz Studios today launched the playfully irreverent adventure game Chuck the Muck on iOS and Android devices. In the game, players chuck a gob of muck named Chuck (say that three times fast) through gooey, interactive puzzles and environments, avoiding obstacles, collecting rewards and unveiling hidden content along the way.
Download Chuck the Muck for FREE for iOS and Android devices:
Chuckers will adventure through over 40 challenging levels, stretching and pulling gobs of muck, creating bridges and firing ooze cannons to help your high-flying, flatulent critter collect crystals, dodge volcanoes and avoid sneaky Welk Guards.  Chuck the Muck features game-changing abilities, like Deep Sea Diver and Flying Mammal, as well as bonus content and hidden gameplay unlocked by special Spelunker Gear. As they muck about, players will need to collect as many crystals as they can to feed Chuck and help him complete his epically flatulent quest.
Chuck the Muck features:
Easy to use trajectory controls
Interactive muck-y physics
40 challenging levels
4 unique environments including the Crystal Mines and Shadow Temple
Unlock costumes with special abilities including the Deep Sea Diver and Flying Mammal
Unlock hidden content and bonus levels with Spelunker Gear
Collect in-game rewards and achievements
For more information about Chuck the Muck visit www.chuckthemuck.com.
---
Assets

– Download the trailer: triplepointpr.com/dl/Kiz/ChuckTheMuck_Trailer.mp4.
– Download the media kit: triplepointpr.com/dl/Kiz/Chuck%20the%20Muck%20Media%20Kit.zip.
---
About Kiz
Kiz Studios is an independent video game and entertainment studio with offices in Atlanta, GA and Charleston, SC. Founded in 2007, Kiz Studios develops innovative games and digital media content for a global audience. All content takes place in the Planet Muck™ Universe, a world filled with action, adventure and the never ending battle against the forces of evil. To learn more about our company, please visit www.kizstudios.com.
---
Media Contact
Stephanie Palermo, TriplePoint for Kiz Studios
spalermo@triplepointpr.com