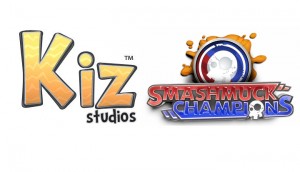 Kiz Studios is giving players more of what they want with early access to content, discounts and free items available daily
ATLANTA – May 22, 2013 – Indie developer Kiz Studios today announced Custom Games and Spectator Mode will be coming to SmashMuck Champions this August.  The new, fan-requested game modes will raise the stakes for competitive play, providing players with the tools to shoutcast, record each game for bragging posterity and set up their own customizable tournaments. As Smashmuck Champions' community continues to expand following the launch of the Steam closed beta earlier in the year, the studio is closely working with players to give them a say in the game's design direction. From the new modes announced today to fan-created champions and beyond, Kiz is dedicated to building the game its players truly want.
Kiz will hold contests throughout June and July to give players a chance to playtest the new modes and other in-development content like fan-created Platimus, the half-unicorn, half-platypus, completely awesome Champion. To participate, gamers should follow  the SmashMuck Champions Facebook page (https://www.facebook.com/Smashmuck) weekly for details on how to win a chance to be part of these epic summer smash sessions, streamed live each Wednesday on Twitch.tv http://www.twitch.tv/smashmuckchampions.
And to kick it all off, today through the end of the month, players will receive a free SmashMuck Champions item each day they log-in and play, and can also purchase Founders Pack upgrades at a 25 percent discount.
For more information about SmashMuck Champions, visit www.smashmuck.com.

Assets
–Download the Mucking Mayhem Press Kit
About Kiz Studios
Kiz Studios is an independent gaming and entertainment studio with offices in Atlanta, GA and Charleston SC. Founded in 2007, Kiz Studios develops innovative games and digital media content for a global audience. To learn more about our company, please visit www.kizstudios.com.  SmashMuck Champions rocks the emerging MOBA genre with its fast-paced action and community driven indie development.  To learn more about SmashMuck and start smashing, visit www.smashmuck.com.
---
Media Contact
Stephanie Palermo, TriplePoint for Kiz Studios
spalermo@triplepointpr.com