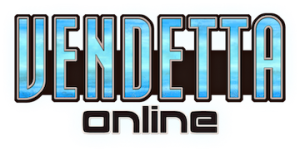 MILWAUKEE, WISCONSIN — July 24 2013 — Game developer Guild Software is pleased to announce their space MMORPG "Vendetta Online" now supports the Oculus Rift family of VR headset devices.
"We're thrilled to help bring our users the next level of immersion in a
virtual world," said John Bergman, founder and creative director of Guild Software.
The debut of Rift compatibility in Vendetta Online marks the first time a live MMORPG has officially released support for the head-mounted display. The presence of the Oculus Rift is automatically detected on game startup, offering the player the option of enabling VR mode.
"For the moment, support is limited to the Windows version of our game, but we intend to expand this to other platforms with device compatibility," said Bergman.
The release of the Rift support also coincides with a major new graphics
update for the game, one of many to come, most recently adding highly detailed planets and new procedural nebula.
About Vendetta Online
Vendetta Online is among the longest-running and most broadly cross-platform 3D MMOs available today, debuting in early 2002 on Windows, Mac and Linux. Since then, the game broke ground on Android in 2011, becoming the first PC MMO to make the leap to mobile, and later adding support for iOS, WinRT and independent consoles like the OUYA. The title remains a rare blend of space trading, mining and truly realtime combat, with all clients and platforms connecting to a single online galaxy. For more information, visit www.vendetta-online.com.
About Guild Software, Inc
Guild Software is an award-winning independent game developer based in
Milwaukee, WI. Founded in 1998, the company has continually pursued the
cutting edge in large-scale multiplayer environments. Developing a
completely proprietary MMO engine from scratch, these efforts culminated in the successful launch of Vendetta Online(tm). Guild Software continues to expand upon Vendetta Online, using the title to further both the game and the NAOS Engine on which it is based, striving towards the next generation in unbounded, evolving worlds. To learn more, visit us at www.guildsoftware.com.
Media Contact
Andrew Karl, TriplePoint
akarl@triplepointpr.com
(415-955-8500)