PARIS—July 24, 2013—Cyanide Studio today announced the launch of the official Aarklash: Legacy website, featuring never-before-seen content, along with the first video of the game and new screenshots.
Starting today, all the latest news on Cyanide's upcoming solo strategy game can be found at www.aarklash-legacy.com, including a weekly introduction of a new Aarklash: Legacy hero. The first character unveiled today is Nella, the guild magician, with an official artwork where she is accompanied by two of her comrades, Denzil and Bo Lahm. Also live is the official Confrontation Wiki on the Aarklash: Legacy website, which provides more information on game's universe.
To accompany the opening of the site, Cyanide has also posted a first Developer Walkthrough on its YouTube channel (http://www.youtube.com/watch?v=147fa6wAlrI) in which the Lead Game Designer explains the workings of the game.
Finally, Aarklash: Legacy's two new screenshots reveal the interface of the skill tree as well as inventory management.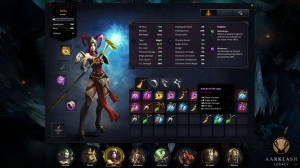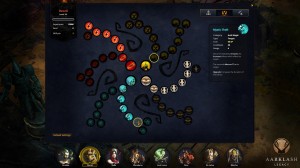 To download the new Aarklash: Legacy screenshots and artwork, visit our FTP: http://bit.ly/14CIwhE
Aarklash: Legacy, a tactical adventure game based on the universe of the Confrontation miniatures, self-published by Cyanide, will be available this September 2013.
For more information, please visit: www.aarklash-legacy.com
Download the press kit: http://bit.ly/1b4kEab
About Cyanide
Cyanide is an independent and privately held video game studio. Based in Paris, it was created in 2000 and has risen to become one of the most productive game development studios in France. In 2007 the company opened a facility in Montreal, Canada with total team of 100. The studio is best known for its Pro Cycling Manager series. Cyanide also boasts games drawn from a wide variety of universes including Blood Bowl (sport/fantasy/RTS, 2009/2010/2012), Game of Thrones (Action/RPG, 2012) and Of Orcs and Men (Action/RPG, 2012, in collaboration with Spiders).
Aarklash: Legacy — Copyright © Cyanide SA 2013. Dogs of War, Aarklash, Rag'Narok, Confrontation, Cadwallon and all associated marks, logos, places, names, creatures, races and race insignia/devices/logos/ symbols, characters, products, illustrations and images from the Aarklash world are either ® , TM and/or © Cyanide SA 2003-2013, registered in FRANCE or UE and other countries around the world, and used under license. All Rights Reserved. All other trademarks, logos and copyrights are property of their respective owners.
Media contact

Erin Fan, TriplePoint
415-955-8500
efan@triplepointpr.com