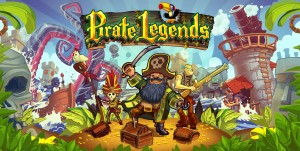 Tower Defense Strategy game to plunder the seven seas exclusively on iOS devices
MONTREAL and DUBLIN – August 1, 2013 – All hands on deck! Set a course for your iOS devices as Superhippo has announced Pirate Legends is coming to the iTunes App Store on Thursday, August 15, 2013! In Pirate Legends, players sail their ship through a tropical paradise as they defend themselves from waves of enemies. Use 20 unique towers to blow away the mighty British Navy, the hunger-infested cannibal tribes, and the restless undead horde into smithereens. Fire off your ship's cannons, voodoo your enemies with a shaman tower, or unleash the Kraken to devour them whole!
Watch the trailer: https://vimeo.com/71099520
In Pirate Legends, players will discover:
7 varied lush environments complete with NPC units
12 epic battles across the seas against 28 different enemies and 4 scallywag bosses
20 unique towers, with 16 powerful tower specials
Awesome soundtrack with 10+ unique tracks and character voiceovers
4 sea-worthy heroes to command and 5 magical relic powers
And so much more!
To learn more about Pirate Legends visit http://superhippo.com/piratelegendstd/
About Superhippo
Superhippo is a young game company based in Ireland focused on creating outstanding games for mobile platforms. They build entertainment for the masses, bringing users across the world together with their love for quality video games. They are a young dynamic team with more than 40 of the most passionate developers, designers, marketers and artists on board. The future is mobile, and they intend to lead the way.
---
Media Contact
Rahat Rashid, TriplePoint for Superhippo
rrashid@triplepointpr.com