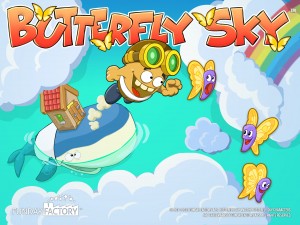 Winner of Kiip's Indie Game Fund, Butterfly Sky is an addictive endless jumper
AARHUS, Denmark– August 8, 2013 – Today Danish game developer Funday Factory, the studio behind award-winning apps Axe in Face, Driftin' and Smashville, today released Butterfly Sky on iOS. Time your jumps and landings using one-touch controls to collect butterflies in this addictive endless jumper. Collect and upgrade four handy power-ups while jumping across a cloud-filled sky. Upgrade your clothing, your house, and even your power-ups using your hard-earned butterflies. Plus, don't forget to level up your character for bigger bonuses and score multipliers! This all-ages game provides butterfly collecting, cloud-hopping fun that will have you saying, "Okay… just one more round!"
Download Butterfly Sky today, free on the iTunes App Store: https://itunes.apple.com/app/butterfly-sky/id603060647
Download the Press Kit.
Watch the Trailer: http://www.youtube.com/watch?v=x6yRIIvFUPY
Made for casual and hardcore gamers alike, Butterfly Sky features endless gameplay in a random combination of over 100 beautifully animated cloud segments. There are 35 unique in-game achievements, 27 gameplay missions to complete, and 10 ranks to level up. Players also can feel the rush of beating their rivals on the leaderboards, as well as the anguish of having their top score bested. Using the innovative Kiip connectivity, players can unlock real-life coupons and rewards just by playing the game. There are also 30 rare butterflies to collect within the game, with a new butterfly spawning every day.
Can you complete all the missions, get to level 10, find all the rare butterflies and satisfy your hungry whale buddy?
Butterfly Sky features:
* Easy-to-learn one-touch gameplay.
* Four upgradeable power-ups including the Helpful Bird, the Rocket, the Butterfly Magnet, and the x2 Multiplier!
* 27 in-game missions,10 character level-ups, and 35 unique achievements.
* Visit Butterfly Heaven and catch all the butterflies for a big point bonus.
* Collect gems to use the "Save Me" function and keep playing, even when you miss a jump.
* Customize your clothing, the house you live in, and your buddy the Whale.
* Perfect the art of cloud-jumping to earn massive bonuses.
* Collect the 20 rare butterflies and get your score multiplier sky-high.
* Stay connected with Chartboost, Vungle and Kiip integration
* Compete for high scores on leaderboards, and send gems to your friends!
Visit Funday Factory on Facebook and Twitter for the latest news and exclusive sneak peeks.
Assets
Download the Press Kit
About Funday Factory
Funday Factory, founded in 2011, is an independent game developer based in Aarhus, Denmark. Dedicated to making games that are addictively fun for everyone to enjoy, the studio consists of a small band of passionate developers who simply love what they do. Previous games include the award-winning Axe in Face, the smash hit Smashville, and the action-packed Driftin'.
---
Media Contact
Lucas Cartwright, TriplePoint for Funday Factory
lcartwright@triplepointpr.com