MOUNTAIN VIEW, Calif. – Aug. 22, 2013 – Atypical Games, the premier maker of combat flight games for mobile devices, announced today that Sky Gamblers: Storm Raiders has been named Apple's App of the Week. The 2013 Apple Design Award-winning game, typically priced at $4.99, is now front page featured and is free to download starting today. It was the #1 Top Action game at launch, with a Metacritic score of 89. Don't miss this chance to enjoy gravity-defying dogfights as the promotion only runs for the next week.
See the game in action in the trailer: www.youtube.com/watch?v=tHnsZHJlXV0
Download the universal app for iPad, iPhone, and iPod touch: http://itunes.apple.com/us/app/sky-gamblers-storm-raiders/id574375380?mt=8
Since its initial launch in November 2012, the World War II-style arcade game has been redefining the standards for mobile gaming with its spectacular array of visual effects, diverse single and multiplayer campaigns, and historically accurately rendered aircraft. And in true Sky Gamblers fashion, players on mobile and Mac can face off against each other, as players are prisoner to no platform in the world of Sky Gamblers!
For more information on Sky Gamblers: Storm Raiders, please visit: www.atypicalgames.com/StormRaiders
Like Atypical Games on Facebook at: www.facebook.com/AtypicalGames
About Atypical Games
Founded by a group of passionate video game developers, Atypical Games is a California based company with a fresh take on publishing. Bringing the focus back to the player's experience and the true values of game design, Atypical promises to bring to the public games of the highest quality and great value. Atypical's developers are the makers of Sky Gamblers™: Cold War and are considered the premier maker of combat flight games for mobile devices.
Official Website | Facebook | @AtypicalGames
---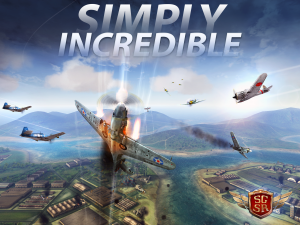 Media Contact
Erin Fan, TriplePoint
efan@triplepointpr.com
(415) 955-8500