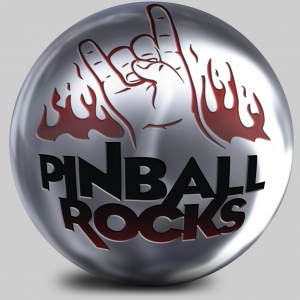 Available Now for Android

NEW YORK – Oct. 1, 2013 – Sony Music Entertainment announces the release of the Android version of Pinball Rocks HD, a five-table pinball compilation game. The app has previously been available for the iPhone, iPad and iPod Touch with downloads exceeding 1.8 million on all iOS operating systems. 
Pinball Rocks HD features a free entirely metal and rock-themed table with featured music from The Sword, Norma Jean, For Today, Three Days Grace, Red, The Virginmarys, Filter, Anvil, Krokus, Lordi, Queensryche and Richie Kotzen. Zeena Koda, morning host of Sirius XM's Liquid Metal, voices the app. Fans can catch Filter, RED, Norma Jean, The Sword and For Today on tour this fall.
Additional premium music content is available from AC/DC, Alice In Chains, Bullet For My Valentine and Slayer via in-app purchase.  Sony Music previously released the best-selling and critically acclaimed titles AC/DC Pinball Rocks and Slayer Pinball Rocks which have now been integrated into the overall Pinball Rocks HD compilation.
Pinball Rocks HD innovates on both discovery and a simplified purchase process of music featured in the game. For example, the game prominently features music that rotates on an ongoing basis, and allows players to seamlessly purchase those songs directly from iTunes or Google Play from the game for permanent ownership.
The Pinball Rocks HD App is available for free from the Google Play Store. Premium music content and game add-ons are available for $2.99 via In-App Purchase.
For more information, please visit www.facebook.com/pinballrocks.
Assets are available for download here.
Twitter link – http://www.twitter.com/pinballrocks
YouTube link – http://www.youtube.com/pinballrockshd
About Sony Music Entertainment
Sony Music Entertainment is a global recorded music company with a current roster that includes a broad array of both local artists and international superstars. The company boasts a vast catalog that comprises some of the most important recordings in history. It is home to premier record labels representing music from every genre, including Arista Nashville, Beach Street/Reunion Records, Bystorm Entertainment, Columbia Nashville, Columbia Records, Day 1, Epic Records, Essential Records, Kemosabe Records, Legacy Recordings, MASTERWORKS, Polo Grounds, RCA Inspiration, RCA Nashville, RCA Records, Sony Classical, Sony Music Latin, Star Time International, Syco Music, Vested in Culture and Volcano. Sony Music Entertainment is a wholly owned subsidiary of Sony Corporation of America.
---
Media Contact
Tristan Kruth
TriplePoint PR for Sony Music Entertainment
tkruth@triplepointpr.com
(415) 955-8500