Bolt Creative and One High-Flying Pygmy Plot Their Return to Your iOS Device!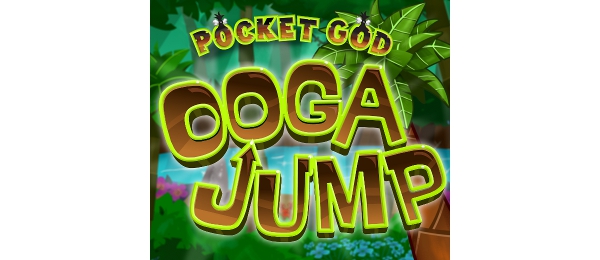 SAN FRANCISCO – Oct. 24, 2013 – What happens to a Pygmy that thinks it can fly? Inevitably, it falls. But in the world of Pocket God, it's just as likely to be sliced in two by spinning blades, have its skin peeled off by a monkey, or suffocate in a pile of giant dodo droppings. Bolt Creative, the studio behind the classic App Store hit Pocket God, has today announced that Pocket God: Ooga Jump will hit the App Store for $0.99 on Thursday, October 31st.
In Ooga Jump, players will utilize tilt controls to jump and bounce their Pygmy higher and higher, navigating different types of platforms, gathering shiny gems and collectible items, and avoiding tricky obstacles as well as a host of hostile island inhabitants. Gems collected will boost the Pygmy skyward, and also be used to access new Pygmies, areas to scale, and boosts.
As if we haven't learned yet, perils abound on the Pygmies' mysterious island! Meteors will strike, blocking off platforms and burning our fearless flyer to a crisp. Spiders will ensnare and digest those that bounce poorly. Rabid monkeys will be using Pygmy skin as a mask if they catch high-flyers in mid-air. In other words: just another Wednesday for a Pocket God Pygmy.
The Pygmy can do a bit more than jump, though – tap the screen to slam down on platforms for extra gems, fight off foes, and destroy the marks of other Ooga Jump players. But don't miss the mark, or everyone's favorite immortal islander will only plummet to his temporary death even faster!
With full Game Center support, leaderboards, objectives, and more, fans of Pocket God will soon be finding new ways to be a wrathful or benevolent deity, all while comparing their divine work to their friends and foes.
Check out the trailer for Ooga Jump now at http://www.youtube.com/watch?v=hf1vTL0p2Fg. Be sure to download the game on the iTunes App Store for $0.99 when it launches on October 31st!
For more information please visit www.boltcreative.com. A press kit with Pocket God: Ooga Jump assets can be downloaded at http://www.triplepointpr.com/dl/PocketGod/PGOogaJumpPressKit.rar .
About Bolt Creative
Bolt Creative is a San Francisco-based developer and publisher of original games, including the hit iOS phenomenon Pocket God, ranked by Apple as the #9 Top Paid App of All Time. Since its 2009 launch, Pocket God has mushroomed into a full franchise with the original game hitting multiple online and mobile platforms, Pocket God: Journey to Uranus bringing players and pygmies into outer space, and Pocket God: Ooga Jump hitting iOS in the fall of 2013. The digital Pocket God Comics series has become one of the most successful digital comic series available and continuously outperforms megabrands. Fans can also purchase Pocket God merchandise such as figurines, apparel, and plush. Bolt Creative's goal is to develop games that crack them up and entertain players for countless hours. For more information, please visit www.boltcreative.com.
Media Contact:
Andrew Karl, TriplePoint for Bolt Creative
akarl@triplepointpr.com
(203) 314-6255