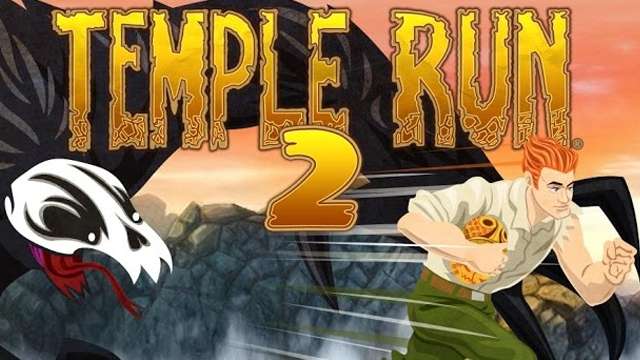 Cruise through raging rapids, play as Santa with limited-time holiday exclusives and more
RALEIGH, N.C. – Dec. 10, 2013 – Imangi Studios, the founders of the smash success Temple Run series, are bringing early holiday cheer with Temple Run 2 updates. In one of the biggest updates since the game launched in January 2013, players can swim through raging rapids, discover mysterious masks, unlock a limited-time character and collect holiday artifacts.
Temple Run 2 now includes a water slide, and players can use the same swiping motions to make their character turn and duck, all while cruising down perilous rapids. Look out for all-new collectible masks, but be wary – some are far rarer than others!
Additionally, players can celebrate the season by unlocking various holiday artifacts, including candy canes, wreaths, holly, stockings and presents. Earning these artifacts rewards players with a Santa hat, which they can place on the Temple Run character of their choice. Collect enough gems and Santa Claus himself appears as an unlockable character.
"We're approaching the one-year anniversary of Temple Run 2's launch, and with this update we wanted to introduce new gameplay elements that keep the run exciting for players," said Keith Shepherd, co-founder of Imangi Studios. "And of course, we love the holidays, so we couldn't pass up the opportunity to incorporate Santa and holiday artifacts into the game."
Key Updates Include:
Run as Santa for a limited time through the holiday season by using gems to unlock!
Five holiday artifacts to unlock: holly, present, stocking, wreath, candy cane
Santa Hats – Earn a Santa hat for each character when you collect each of the holiday-themed items
Water slide play feature – Dive through treacherous waters
Unique obstacles – fallen trees, large rocks and more
Hunt down masks of varying rarities
With over 500 million downloads between Temple Run and Temple Run 2, the series is one of the biggest in mobile gaming. Since the launch of the original game in 2011, the brand has expanded to include apparel with Komar Kids, digital comics with Ape Entertainment, and card and board games with Spin Master, among other licensing partnerships. Imangi has collaborated twice with Disney to launch Temple Run: Brave and Temple Run: Oz. Both games reached the #1 slot on the App Store.
Download Temple Run 2 for free by visiting any of the links below:
iOS: https://itunes.apple.com/us/app/temple-run-2/id572395608?mt=8&ign-mpt=uo%3D6
Google Play: https://play.google.com/store/apps/details?id=com.imangi.templerun2
Amazon: http://www.amazon.com/gp/mas/dl/android?p=com.imangi.templerun2
Assets
Press Kit
Video of Updates in Action
About Imangi Studios
Imangi Studios was founded by husband and wife team Keith Shepherd and Natalia Luckyanova in 2008 with the goal of creating small fun games for everyone to enjoy.  What started as a dream job for the couple has evolved into a successful business, with Keith and Natalia now working with a team of other talented game creators. In 2011, the studio developed the mega-hit Temple Run, and followed with Temple Run 2 in 2012. The two games have been downloaded over 500 million times. Based in North Carolina, Imangi Studios is a self-funded and fully independent studio.
Official Website | Facebook | @TempleRun
Media Contact
TriplePoint for Imangi Studios
imangi@triplepointpr.com
(212) 730-9744