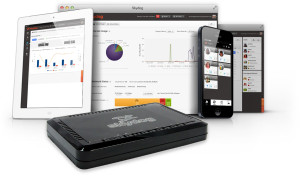 Use Promo Code SAFERDAY to Get $20 Off Skydog! 
PALO ALTO, Calif. – February 11, 2014   
WHO: PowerCloud Systems, Inc., the creators of Skydog (www.skydog.com), Smart Family Wi-Fi Router and Web App, a first-of-its-kind home networking solution that allows you to powerfully, yet simply, manage your family's unique digital lifestyle.
WHAT: PowerCloud Systems is offering a one-day only discount of $20 off the purchase of Skydog, the smart home networking solution for families. Use the promo code SAFERDAY at checkout.
WHEN: Today, Tuesday, February 11, 2014
WHERE: The Skydog website – www.skydog.com – or Amazon.com http://amzn.to/1fXda96
WHY: Today is Safer Internet Day, a global awareness-raising campaign helping kids make smart choices online and highlighting how they can use technology to make life better for themselves and others. As the only home networking solution that helps families manage their connected lifestyle on a user-by-user basis, Skydog is a valuable tool for households that want to manage how and when their home network is being used.
About PowerCloud Systems
PowerCloud® Systems is a leader and industry pioneer in cloud-powered wireless networking. The technology underpinning Skydog and the company's award-winning CloudCommand® platform was invented at the Palo Alto Research Center (PARC) and makes deploying and monitoring Wi-Fi networks and services easy for consumers and businesses. PowerCloud Systems products are deployed worldwide in homes, hotels, schools, retail chains and other businesses seeking truly affordable, enterprise-grade Wi-Fi. Investors include PARC, Qualcomm Ventures, Javelin Venture Partners and Walden Venture Capital. More information can be found at www.powercloudsystems.com.
Media Contact
Andrew Karl, TriplePoint PR for PowerCloud Systems
415-955-8500
akarl@triplepointpr.com