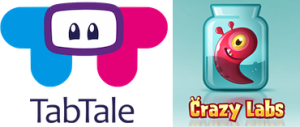 New Publishing Brand Expands Audience Reach for Leading Provider of Mobile Apps for Children, Starting with Competitive Disc-slinging Game
TEL AVIV, Israel – Feb. 25, 2014 –  TabTale, a leading developer of interactive games and children's entertainment for mobile devices, today announced the launch of Crazy Labs, the company's publishing brand of mobile games for audiences 13 years and older. The new endeavor offers independent development studios an opportunity to capitalize on TabTale's market success and experience. The company also today announced its first title under the Crazy Labs brand, Disky: Air Hockey Mania, a competitive game with multiplayer features, developed by Playful Shark and Plaid Games. Winner of Game Connection Europe's "Best Mobile Game Award," Disky is set to launch on March 4 2014, and will be available free-to-play for iOS iPhone and iPads.
"Crazy Labs is a natural evolution of our business, a venture that we'll invest heavily in as we continue to build on the tremendous success of TabTale's leadership in mobile apps for children," said Sagi Schliesser, co-founder and CEO, TabTale. "We hope that Disky becomes a shining example of our new publishing capabilities under the Crazy Labs brand, and we welcome talented studios to reach out to us about potential partnerships."
Disky: Air Hockey Mania is a fast-paced game that challenges players' precision and focus as they make split-second decisions between offensive, defensive, and deceptive gameplay strategies. You can play in single-player mode or against a friend, requiring players to slingshot discs into the rival's court. Featuring various discs with unique powers and boards that evolve with obstacles, Disky is a fresh take on the classic game of air hockey for mobile devices. The game can also become the life of your next party with gameplay perfect for tournaments.
View the official trailer here: http://www.youtube.com/watch?v=Frfp3e9HpBM
•  To learn more about Disky, visit www.plaidgames.com/disky  and like on Facebook at www.facebook.com/DiskyGame
•  Follow Crazy Labs on Facebook at www.facebook.com/crazylabsgames and Twitter at www.twitter.com/CrazyLabsGames
•  For more about TabTale, visit www.tabtale.com, like on Facebook at www.facebook.com/TabTale, follow on Twitter at www.twitter.com/TabTale , and subscribe on YouTube at www.youtube.com/iTabtale
About TabTale
TabTale is a developer and publisher of interactive games and educational apps for smartphones and tablets that kids and parents love. Currently recognized by App Annie as the eighth largest mobile app publisher in the world with over 300 million downloads and 25 million monthly active users, TabTale's key franchises include Baby, Paint Sparkles, and Doctor X. The company was founded in 2010 and is headquartered in Tel Aviv, Israel with 130 employees across its offices in Macedonia, Ukraine, Bulgaria and India. TabTale has raised a total of $13.5M in venture capital funding led by Qualcomm Ventures and Magma Venture Partners. The funding is being used to fuel app development, expand to new markets of older audiences, and solidify TabTale's leadership position in the children's mobile entertainment and education categories. To learn more about TabTale, visit www.tabtale.com.
About Plaid Games
Plaid Games is a digital media start-up company. We design, develop and market cutting edge games and technology. Plaid Games aims to define the future of gaming by bringing innovative, high-quality games to mobile devices and web browsers around the world. We're committed to creating fun, family-safe content that's instantly accessible. Plaid Games was founded by Uri Golan. Among our games are Katoombaa for Android and Bubblooba™ Online for Facebook and the open web. Learn more about Plaid Games at www.plaidgames.com.
About Playful Shark
Playful Shark is a game development studio based in Israel that has been creating games since 2004. We create both Tailor made games for clients as well as our own independent games, focusing on innovation. Playful Shark develops games with Flash, Unity and HTML5 for IOS, Android, Facebook and Web. Our missions is to make the ocean a little more playful for sharks and other sea creatures. Playful Shark is part of Jivy Group, a boutique outsourcing software house for startups and entrepreneurs. For more information about Playful Shark, visit www.playfulshark.com.
---
Media Contact
TriplePoint on behalf of TabTale
tabtale@triplepointpr.com
+1 (212) 730-9744